Halloween may be happy, especially if those treats are full of sugar and sass.
But what about tricks . . . those things that go bump in the night and cause you to have nightmares? We offer some New Year advice, especially for those who need to begin new chapters in their lives.
Be forewarned: This triumvirate of mysteries are certain to chill you, more bone-thrilling than the coldest winter blast. Save the dates. If you dare.
A Ghostly Reunion by Tonya Kappes (on sale December 27)
Another volume in the Ghostly Southern Mysteries series . . . Proprietor of the Eternal Slumber Funeral Home, Emma Lee can see, hear and talk to ghosts of murdered folks. And when her high school nemesis is found dead, Jade Lee Peel is the same old mean girl-trying to come between Emma Lee and her hot boyfriend, Sheriff Jack Henry Ross, all over again.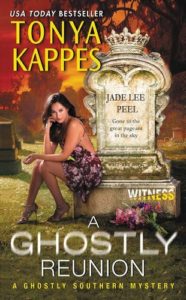 There's only one way for Emma Lee to be free of the trash-talking ghost-solve the murder so the former prom queen can cross over. But the last thing Jade Lee wants is to leave the town where she had her glory days. And the more Emma Lee investigates, the more complicated Miss Popularity turns out to be. Now Emma Lee will have to work extra closely with her hunky lawman to get to the twisty truth.
Final Exit by Lena Diaz (on sale January 31)
After a tragic mistake nearly destroyed his life, Special Agent Kade Quinn will do whatever it takes to save his career. His latest mission? Track and capture the remaining EXIT operatives to determine if they're still a threat. But his next target, a stunning female assassin, is both elusive and dangerously appealing. Bailey Stark has outsmarted the FBI so far, but she's tired of running. Tired of watching her friends ambushed by government agents in tactical gear and never seen again. She suspects they aren't being evaluated-they're being exterminated-and she's determined to convince Agent Quinn his mission is a lie before it's too late.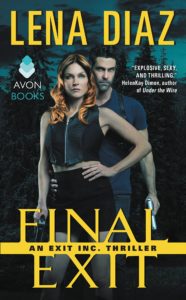 Bailey doesn't want to rely on him. She definitely shouldn't desire him. But she knows teaming up with the skilled, sexy agent may be her only hope. Kade doesn't want to believe Bailey's claims, but he promises to keep her safe. Trusting one another is difficult. Fighting their attraction is harder. And as they uncover the disturbing truth behind his mission, staying alive will be nearly impossible. An EXIT, Inc. thriller.
A Ghostly Mortality by Tonya Kappes (on sale February 28)
Yet another volume in the Ghostly Southern Mysteries series . . .
Only a handful of people know that Emma Lee Raines, proprietor of a small-town Kentucky funeral home, is a "betweener." She helps ghosts stuck between here and the ever-after-murdered ghosts. Once Emma Lee gets them justice they can cross over to the great beyond. But Emma Lee's own sister refuses to believe in her special ability. In fact, the Raines sisters have barely gotten along since Charlotte Rae left the family business for the competition. After a doozy of an argument, Emma Lee is relieved to see Charlotte Rae back home to make nice.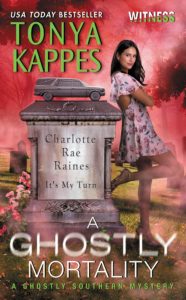 Until she realizes her usually snorting, sarcastic, family-ditching sister is a . . . ghost. Charlotte Rae has no earthly idea who murdered her or why. With her heart in tatters, Emma Lee relies more than ever on her sexy beau, Sheriff Jack Henry Ross…because this time, catching a killer means the Raines sisters will have to make peace with each other first.