Think strong female protagonists are a modern invention? Think again. Women have been a staple of comics since the creation of the medium. Prepare for a deep dive into pop culture and the fantastic female characters who shaped the world of superheroes with The Spectacular Sisterhood of Superwomen: Awesome Female Characters from Comic Book History (Quirk Books, $24.95).
Author Hope Nicholson, owner and founder of Bedside Press, is one of the fastest rising stars of the comic book industry.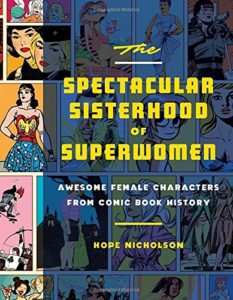 Here,  Nicholson plumbs each decade of comics' rich history, from the '30s to today, exploring not only prominent women (both fictional and real) but also key trends. Readers will time-travel through the birth of the industry in the '30s, the wartime comics of the '40s, the Golden Age of superheroes in the '50s, the popularity of romance comics in the '60s, the indie comics boom of the '70s, and the creation of the modern comic book trade from the 1980s to today.
Immersive chapters highlight a diverse slate of iconic and forgotten characters, with each heroine receiving her own write-up, paired with vintage art and essential reading suggestions. Each chapter ends with an "Hero of theDecade" feature packed with facts and thoughtful critique about some of the most important female protagonists of all time, including Wonder Woman, Batgirl, Watchmen's Silk Spectre and Ms. Marvel. These heroines are celebrated for their lasting pop-cultural impact and the important role they played in redefining the way people interacted with women in comics.
The Spectacular Sisterhood of Superwomen introduces long-lost characters while allowing readers to see their favorites in a whole new light.  We also learn that the superwomen of the comic book industry weren't merely confined to the page.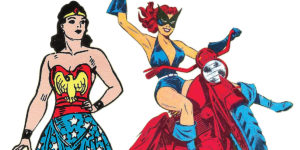 Throughout the book Nicholson reveals fascinating anecdotes about women who worked in the medium, from the all-female creative team at publisher Fiction House during World War II to the surge of female creators during the independent comics boom of the 1970s.
Longtime and recent fans alike will love this comprehensive look at the female characters who have defined comics since the very start. From the halls of comic cons to the halls of academia, The Spectacular Sisterhood of Superwomen will become your go-to reference for history's greatest heroines.