It's taken five years, but the wait was worth it. Commonwealth (Harper, $27.99), the first novel in 1825 days from New York Times bestselling author Ann Patchett, is a wallop of a book. It tells the emotionally intricate, enveloping story of two families torn apart by divorce and reassembled into one imperfect union by remarriage.
Unfolding through shifts in time and point-of-view, the masterful narrative bears the hallmarks that have graced the best work of this gifted storyteller, winner of the PEN/Faulkner Award and Orange Prize: brilliantly-drawn, flawed character we feel we know; a surprising plot that nonetheless resonates with the familiarity of our own lives; and an intrinsic feel for the humor that sustains us through the inevitable disappointments and heartbreak we encounter.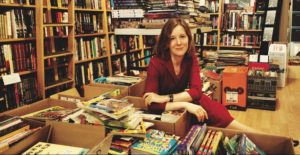 It is chance that brings the Cousins and the Keatings together, and chance that will tear them apart. Looking for a way to spend a Sunday afternoon and escape the tedious demands of a household full of preschool-aged kids, deputy DA Bert Cousins crashes the christening party for the new baby daughter of Fix Keating, a cop he barely knows. Bert comes bearing a large bottle of gin, which lubricates the previously-dry party, and leads to the fateful moment where he kisses Keating's beautiful wife, Beverly. That brief encounter sets the dissolution of both marriages in motion.
We promise (and our dear readers know we hold true to our promises) not disclose too much . . . just enough to snatch up a copy of the tome that the Chicago Sun-Times describes as "Patchett is a virtuoso storyteller,with an ability to create characters we can innately understand."
Bert and Beverly, with her two daughters, Caroline and Franny, move to Virginia, while Bert's four children—Cal, Holly, Jeanette and Albie—stay in California with their mother. But every summer, the four Cousins kids fly to the East Coast to become temporarily part of a blended family. The six siblings forge bonds, not so much out of any real affection, but for their shared antagonism toward their parents. An act of daring, performed without Bert and Beverly's knowledge, seals the children's connection. When one of them dies under tragic circumstances, the others unite in their sworn secrecy about what has really occurred.
Years later, with the now-grown children living disparate lives, another event closes the distance they have placed between themselves and the past. Franny has told her lover, a renowned novelist, about the family story, and he has used it as the basis for a runaway bestseller. The unintentional result of Franny's revelation forces the Cousins and the Keatings to close long-abandoned ranks and come to terms with the full measure of their shared story.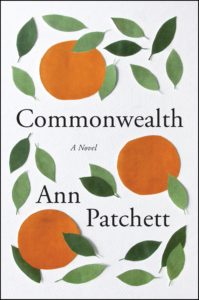 And, with adept scrutiny, but a light touch, Patchett brings every character in Commonwealth to luminous life. As they struggle to overcome their own mistakes, and all that has been imposed on them by the mistakes of others, each seeks a mooring in a world that offers little stability. This tour de force novel captures what family means as it explores the ways we survive being part of one.