Ever since they were revealed to the world as quaint country-women and not the notorious Bell brothers of their pseudonyms, the Brontë sisters have fascinated legions of devoted readers. PBS Distribution goes a few steps further with the release Masterpiece: To Walk Invisible: The Bronte Sisters on DVD and Blu-ray. The program, will be available on Blu-ray and DVD and Blu-ray April 11; the program will also be available for digital download.
Written and directed by Sally Wainwright, the program makes a perfect companion to Masterpiece's past adaptations of Brontë novels: The Tenant of Wildfell Hall (1997), Wuthering Heights (1998 and 2009), and Jane Eyre (2007).
Depicting the evolution of secluded, dutiful clergyman's daughters into authors of the most controversial fiction of the 1840s, the drama stars Finn Atkins as Charlotte, who shocked society with her edgy epic, Jane Eyre; Chloe Pirrie as Emily, author of the darkly gothic and disturbing Wuthering Heights; and Charlie Murphy as Anne, whose true-to-life love story The Tenant of Wildfell Hall was deemed "coarse and disgusting" by Victorian critics.
Also starring are Jonathan Pryce as their distracted father, Reverend Patrick Brontë; and Adam Nagaitis as the sisters' only brother, Branwell, whose wild and dissipated life contributed to vivid characters in each of their novels.
To Walk Invisible was filmed in and around Haworth, the picturesque Yorkshire village where the Brontë sisters lived and which is now a mecca for Brontëphiles from all over the world. Scenes at their parsonage home were shot in an exact replica that recreates the feel of a lived-in mid-19th-century provincial dwelling, with the sisters congregating around the dining table to pen their stories and plot their editorial strategy.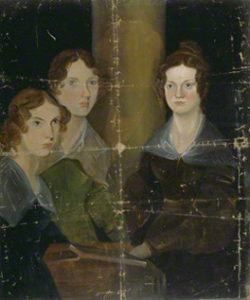 Based largely on Charlotte's voluminous letters, the film follows the Brontë sisters in the eventful three-year period that saw them rise from ordinary, unmarried women, taking care of the household and their widowed father, to the secret authors of the world's most sensational literature.
Although he never suspected it, Branwell was the inspiration. A would-be poet and artist, he was a complete failure due to alcoholism and opium addiction. As Reverend Brontë slowly went blind, Branwell was on an even more precipitous downward slide, inciting the sisters to do something to keep the family out of the poor house.
They had already tried being governesses—a thankless job except it provided good material for novels. So they set about turning personal experiences, keen observations, and unflinching honesty into fiction. Worried that female writers wouldn't be taken seriously, they adopted male-sounding pseudonyms: Currer Bell for Charlotte, Ellis Bell for Emily and Acton Bell for Anne, retaining their own initials.
The last name, Bell, may have been inspired by the arrival of a new set of bells for their father's church, a momentous event in Haworth. Another possible source is the middle name of Reverend Brontë's assistant priest, Arthur Bell Nicholls (Rory Fleck Byrne), who later married Charlotte after the tragically early deaths of her siblings.
But Charlotte gave her publisher a deeper reason for anonymity—and provided the title for this film: "I think if a good fairy were to offer me the choice of a gift, I would say—grant me the power to walk invisible."