Patty, Maxene and LaVerne promised that bongo, bongo, bongo, I don't want to leave the Congo, oh no no no no no/Bingo, bangle, bungle, I'm so happy in the jungle, I refuse to go.
Spelling aside, we can't wait to spend 12 chapters with Panther Girl of the Kongo that, at a cost  of $179,341, was the most expensive Republic serial of 1955.
When we say this is cheesy and cheap and oh-so-cultable, we mean it. The series was the penultimate ( 65 of 66) Republic serial, and was filmed in about two weeks. In order to make it possible to use significant stock footage from the earlier serial Jungle Girl, and cheaply pad out Panther Girl of the Kongo, a duplicate costume was used; as a result, Republic's last female lead wore the same costume as its first!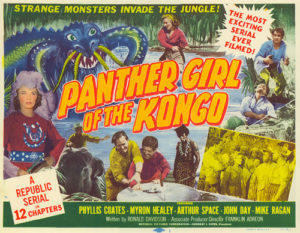 The plot was a meld of serial fodder. Dr. Morgan is a mad scientist who is trying to nab sole access to secret African diamond mines (by way of the Republic backlot). In order to accomplish this he breeds giant "claw monsters to scare away any other inhabitants. Jean Evans, the Panther Girl, and her friend Larry Sanders encounter this plot while on a photo safari in the region.The star was Phyllis Coates, who played Lois Lane in the first season of the television series Adventures of Superman. Dr. Morgan was played by Arthur Space, best known as veterinarian Doc Weaver in 39 episodes of the TV series Lassie.
Olive Films releases release Panther Girl of the Kongo to Blu-ray and DVD.  Even audiences unfamiliar with serials can find plenty to enjoy. You may just not want to leave the Congo . . .