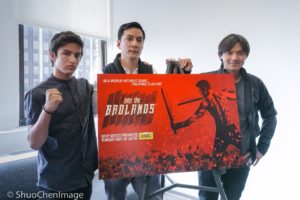 Going Into the Badlands is a good thing. AMC's goal for the series was simple: They wanted to produce a compelling character drama, and introduce the highest caliber of martial arts filmmaking to a weekly series. Success was struck, thanks to the creative minds of creators Alfred Gough and Miles Millar, whose six-part series stars Daniel Wu as ruthless, prodigiously skilled warrior Sunny. He mentors teen boy M.K. during a spiritual journey across a feudal civilization known as the Badlands.
Violence? Of course. With the help of trained assassins like Sunny, the area is ruled by rival barons, and for decades Quinn has consistently outflanked and outmaneuvered his fellow barons to keep the upper hand. His invincibility, however, begins to fade in light of brazen attacks by the newest baron, The Widow, who believes M.K. is the key to her success. As the battle for control of the Badlands heats up, the destinies of the stoic assassin and the impetuous teenager become intertwined.
Those who missed any of the compelling action or want a revisit should save the date of November 8, when Anchor Bay Entertainment releases Into the Badlands: The Complete First Season on Blu-ray and Digital HD and DVD. For those who wonder: The second season of Into the Badlands returns to AMC in 2017.
Set in a world centuries from now, Into the Badlands: The Complete First Season focused on the spiritual journey of Sunny (Wu) and M.K. (Aramis Knight), a teenage boy who harbors a unique ability, and their growing relationship as teacher and student. Both discover their true purpose and decide to explore what lies beyond the borders of the Badlands, but as their Baron Quinn continues to battle against his own family as well as his rival Baron the Widow, Sunny and M.K.'s journey to a more peaceful existence seems further out of reach.
Those who now wonder about bonus features on the Blu-ray and DVD release of season one:
Inside Into the Badlands
Anatomy of a Fight
Building the World of Into the Badlands
The Characters of Into the Badlands: The Barons
The Characters of Into the Badlands: The Clippers
The Master: Into the Badlands Fight Camp Episode 1
Creating Real Kung Fu: Into the Badlands Fight Camp Episode 2
Bringing It All Together: Into the Badlands Fight Camp Episode 3
Into the Badlands Digital Comic