When we stumbled upon Adventure Time, we knew Cartoon Network wasn't the only people having magical (mis)adventures. Then, in the fourteenth episode of the series' fourth season, we aced it when we stumbled up Card Wars.
Shades of Huck Finn . . . of sorts. The series follows the adventures of human boy Finn (voiced by Jeremy Shada), and his best friend and adoptive brother Jake (voiced by John DiMaggio), who happens to be a dog with magical powers. Yep, he can change shape, growing and shrinking at will. Oh, they live in the Land of Ooo.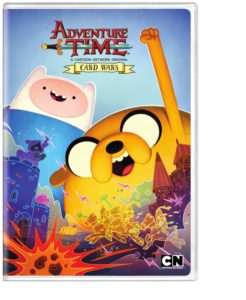 Jake begs Finn to play his favorite trading card game (thus Card Wars),  but things take a turn for the worse when Jake becomes overly competitive, insisting on playing for a "cool guy cup" and the "dweeb cup". Trust us: This is some funny stuff.
Adventure Time: Card Wars (Cartoon Network) is a nifty DVD that will have you shuffling through 16 episodes, including the original Card Wars. The DVD also comes packaged with an exclusive Card Wars playing card, making this DVD a must have for fans, collectors and the huge following that Card Wars has accrued since the episode, app and physical game debuted.
Old maid anyone?