When a dog or cat is sick, there are often dozens of local veterinarians who could help. But who do you turn to when your pet is a boa constrictor or an African grey parrot?
In Unlikely Companions: The Adventures of an Exotic Animal Doctor (Da Capo Press, $24.99), Dr. Laurie Hess—a veterinarian with two decades of experience and her own private practice—invites us into her day-to-day life. Relating the events of one week, Hess shares the mysteries of her ER, the weird and wonderful animals she meets every day, and her observations on how people can connect with their pets in ways they can't connect with each other. As she searches for answers in piles of lab test results, she shares the stories of owners who have stretched both pennies and hearts to keep their pets going strong.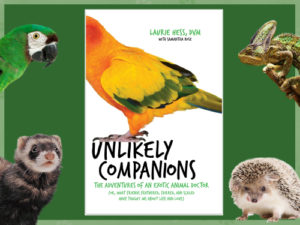 Hess' career mantra has always been that exotic pets deserve exceptional care. Here, we chat with her about why people should (and should not) own an exotic pet.
What exactly are exotic pets?
Exotic pets are domesticated animals, other than dogs and cats that are commonly kept as pets. This includes birds (most often parrots, but also canaries, finches, pigeons, doves, and others), ferrets, rabbits, rodents (guinea pigs, chinchillas, hamsters, gerbils, rats, mice, degus, prairie dogs); reptiles (turtles, tortoises, snakes, and various lizards); amphibians (toads and frogs); hedgehogs, sugar gliders (small mammals that look like flying squirrels but that are actually marsupials); pot-bellied pigs; and some less commonly known species such as wallabies, fennec foxes and kinkajous. Exotic pets should be differentiated from exotic animals—those that are typically wild or found in zoos and that should not be kept as pets.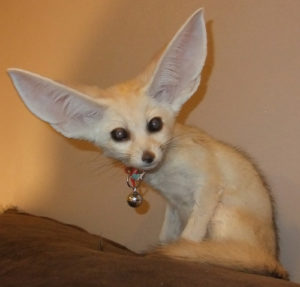 Why would anyone want an exotic pet?
Exotics are great for people who are looking for an alternative to a cat or dog. This includes people who live in small homes who don't have the room to house a dog or cat that needs a lot of space to run around, or individuals that have neighbors close by who won't tolerate barking dogs. Certain species of exotic pets, such as small reptiles (geckos, bearded dragons, small tortoises) and rodents (guinea pigs, hamsters, gerbils), are great for people who might want a lower maintenance animal than a cat or a dog, such as a family with elementary school age children who are getting their first pet. All children should, however, be supervised around any exotic pets.
What are the best exotic pets for families?
It really depends on what the family is looking for in a pet, how much time they have to spend with it, and the age of the kids interacting with it. A good starter animal for families that are considering getting a bird is a cockatiel. These birds are very interactive, full of personality and fairly easy to keep. For families that want a cuddly mammal, a guinea pig is a good choice. Guinea pigs are hardy rodents that bond to their owners and are not very time demanding. Finally, for families with slightly older children who want a fairly low maintenance pet that is interesting to look at but that doesn't require a great deal of daily attention, a small reptile, such as a gecko or bearded dragon, might be a good choice.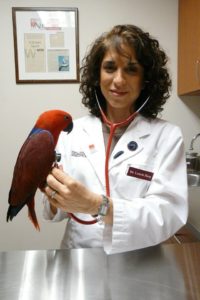 What are the problems wanting or owing an exotic?
While birds, rabbits, rodents (such as guinea pigs, chinchillas, hamsters, and gerbils); reptiles (such as turtles, tortoises, lizards, and snakes); amphibians (frogs and toads); ferrets; and other less well-known animals like hedgehogs, sugar gliders and pot-bellied pigs, are very popular pets, most owners of these unique animals don't even realize that these pets need regular medical care. Unfortunately, many of these exotic animals are purchased or adopted for the wrong reasons—because they are cute, colorful or in the case of birds, they can talk—and many exotic pet owners end up frustrated or disappointed in these animals which end up being ignored or dumped at shelters. Also, many exotic pet owners don't educate themselves about what these animals need, so these pets get sick and end up being brought to veterinarians on an emergency basis. 
Why did you choose to be an exotic pet vet?
After I graduated from veterinary school I realized that very few veterinarians receive adequate training in school to know how to care for exotic pet species properly. There was a definite need for exotic pet veterinary care because  owners routinely bring these animals to the vet when they are sick with the expectation that the vet will know what to do to make them better. These exotic pet species need not only specialized medical knowledge to get them better when they are ill, but also a detailed education of what to feed them and how to house them to keep them healthy. I didn't receive any of this information when I was a veterinary student and realized that to be able to provide proper care for these pets, I would need additional post-doctoral residency training in exotic pet medicine and surgery. So, I completed an additional 3 years of training, beyond veterinary school, specifically in bird and exotic pet medicine and surgery.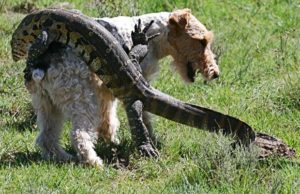 What is the strangest exotic pet you have ever treated?
I have seen many odd pets during my 22-year career treating exotic animals, but perhaps one of the strangest cases I have encountered was a large reptile—a six-foot-long, 30-pound Nile monitor—that was owned by a young man and his mother who traveled all the way from Pennsylvania to New York to see me. The monitor had been housed and fed improperly, became ill and then was then given an overdose of an antibiotic by another vet unfamiliar with this species. By the time it got to me, the lizard was in kidney failure. My staff and I tried very hard to save the animal, but unfortunately, it came to me gravely ill and passed away despite our best efforts to give it intravenous fluids and medications. This monitor is a perfect example of the type of animal that really doesn't belong in most people's homes as a pet, because it could not be cared for properly.