Someone's got to take the rap, so we figure Sean "Diddy" Combs, known to too many people as Puff Daddy. Combs will be puffing his pride as he celebrates his 20+ year legacy as the ruling authority on hip hop and R&B with the release of the Bad Boy 20th Anniversary Box Set Edition, escaping on August 12.  Bad Boy Entertainment, whose founder and chairman  is Combs, is also puffing the fact that they relish explicit lyrics. How can they accept a song (let's take the ditty "Blessings"; how can we mix God with the lyric Man, the clique is the tightest, the pussy's the tightest pussy?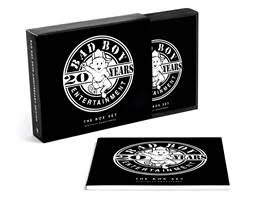 Disturbed music fans will find the CD constipated with tunes such as "I Need a Girl," "Juicy," "I Don't Wanna Know," "Hypnotize," "Money, Power, Respect," "Peaches & Cream," "Can't You See," "Flava In Ya Ear (Remix)," "Love Like This," "Feel So Good," "Pop That," "Damaged" and "I'll Be Missing You," from a lineup of "artists" including Puff Daddy, The Notorious B.I.G., Craig Mack, Faith Evans, Total, Carl Thomas, Mase, 112, The Lox, Cassie, Janelle Monáe, Danity Kane, Machine Gun Kelly and French Montana.  The Bad Boy 20th Anniversary Box Set Edition is available for preorder now digitally and physically at iTunes and Amazon.
Accompanied by a 64-page historiography and foreword by hip hop journalist Michael A. Gonzales, the collection will take readers on a journey through the history of Bad Boy Entertainment, reminding fans of the label's reputation as hip hop's most notorious vanguards.  With contributions from music industry veterans, readers and listeners alike will gain a 360 view of the rise of the label and their revolutionary sound.
Following a painstakingly thorough selection process, which was curated by Bad Boy President Harve Pierre, the collection arrives at the perfect time, the announcement of Puff Daddy & the Family's highly-anticipated Bad Boy Family Reunion Tour, set to kick off August 25.  Tickets for the Bad Boy Family Reunion Tour are available at Livenation.com. For additional information about the Bad Boy Family Reunion Tour, click here.
Coos Combs: "Bad Boy helped make hip hop what it is today and this collection highlights all the music, history and vision that made Bad Boy number one. We want to thank our fans, celebrate the music, the people and the Bad Boy lifestyle that have defined the past two decades.  We've always made music that makes the people dance; this collection does all that and more, and it is a celebration of all things Bad Boy."
Earplugs not included.