No one, nothing, did violence on the small screen as well (and bloody) as Cinemax's Banshee. Die-hard fans—so die-hard they are called "Fanshees"—went into deep mourning when they learned the Emmy-winning action-packed series (ex-con assumes the identity of a small-town Pennsylvania sheriff deep in Amish country)—would be coming to an end.
A show source says that "we have not been canceled, but on the creative side, we have decided to end the show, basically because we were done telling the story. As Cinemax's highest-rated show, no one was looking to cancel us. It was a creative decision. The premise was never meant to survive a long stretch. We all made the decision at the end of season three that we were going to make season four our grand finale."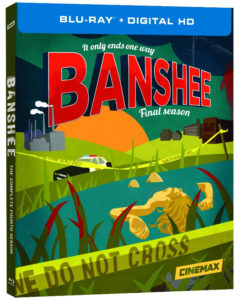 Banshee co-creator Jonathan Tropper adds his take: "'Banshee' has been an incredible ride, and we continue to break new ground in season four. While we certainly considered returning for a fifth season, I always said that when the story was told, it would be time to move on, and that time has come. I am grateful to Cinemax for making 'Banshee' the great success it has been and for supporting our creative decision to wrap things up."
This leaves four electrifying seasons, now on Blu-ray and DVD, though Banshee: The Complete Fourth Season doesn't arrive until October 4.  Sure to lift any "Fanshee" out of the doldrums, the three-disc sets are packed with behind-the-scenes extras including audio commentaries, exclusive deleted scenes, episode recaps, Banshee Origins (which tells the story behind the story with eight prequel videos featuring the cast of Banshee); Zoomed In Episodes 1–8 (an on the set feature highlighting how key, adrenaline-filled scenes were created); and specially-created cast retrospectives on "Best Fight Scenes" and "Job's Best Outfits."
Created by Tropper and David Schickler, Banshee charts the final twists and turns that follow Lucas Hood, an ex-convict who assumed the identity of sheriff in the Amish-area town Banshee, where his former lover and partner-in-crime was living under her own alias, Carrie Hopewell. The final season takes place two years after Lucas gave up his badge after a bloody, multi-million-dollar heist at the Camp Genoa Marine Base which proved costly: Carrie's husband Gordon was killed, and Lucas's longtime computer-hacker partner, Job, was abducted by a shady criminal ring.
After settling a score with a "recruiter" from Lucas's past whom he hoped would have intel on Job, Lucas went on a bender before being rescued by an unlikely savior, Proctor's niece.  Emerging from a self-imposed exile, Lucas returns to Banshee to find it a changed town. Brock Lotus is now sheriff, Kai Proctor is the mayor, and the old "Cadi" police station has been replaced by a state-of the-art facility.

A new deputy with ties to Proctor, Nina Cruz, has joined Brock's team, along with Kurt Bunker, the skinhead-turned-deputy who continues to make amends for his dark past while fighting the racist overtures of the group led by his younger brother Calvin. After reuniting with Carrie, their daughter Deva, and ex-boxer Sugar Bates, Lucas becomes immersed in a new Banshee crisis: rooting out a vicious serial murderer whose latest victim is someone near and dear to his heart.