He was a radio and TV personality like no other, a pioneering shock jock and talk-show host long before the Sterns and Springers sprung into action. Petey Greene took on racism like no one before and become an inspiring voice for understanding.  His true-story is told in Adjust Your Color: The Truth of Petey Greene (Virgil Films), a riveting documentary featuring rare footage and classic interviews.
In the tumultuous '60s and '70s, Greene emerged as a one-of-a-kind voice speaking out against racism, crime and poverty. An ex-con, he used his years in prison as an education in people and society, and as a radio host and later a TV personality in Washington, D.C., spoke the people's language to point out what needed to be changed to make life better for everyone.
Oscar-nominated actor Don Cheadle (who portrayed Greene in the 2007 award-winning feature Talk to Me) narrates this insightful documentary that explores the life and times of Greene, the bombastic radio DJ-activist who rose to prominence in the '60s via his groundbreaking show, Rapping With Petey Greene. By the '70s, he was hosting Petey Greene's Washington, a similar show on TV,  whose wide range of guests included a young shock jock named Howard Stern, shown here in rare footage wearing blackface and an afro during an interview with Greene. (Stern has called Greene the greatest radio personality of all time.)
Fearless and provocative, Greene galvanized audiences with his frank and often humorous commentaries on topics like race, religion, poverty, sex and corruption. He was unafraid to state truths that others would rather avoid, such as, "People use drugs because drugs is good!" Numerous prominent figures appear in the film to pay tribute to Greene's importance and influence, including sportscaster James Brown, boxer Sugar Ray Leonard, former Washington Mayor Marion Barry and actor Robert Hooks, who calls Greene "the ghetto jester, the original rapper."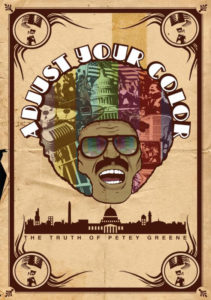 Adjust Your Color: The Truth of Petey Greene is an invaluable reminder of the power of speaking the truth loud and clear.