Petula Clark sang about the reasons going downtown. After all, a visit "can forget all your troubles, forget all your cares." That was then. Fast forward a decade or so, and the music and energy about to explode in the '70s punk underground electrifies the coming-of-age drama
London Town (IFC Films).
Featuring a stunning performance by Jonathan Rhys Meyers as Joe Strummer of the legendary band the Clash, the film comes to DVD from IFC Films on
February 14
.
Think of this as a musical valentine.
When 15-year-old Shay (portrayed by Daniel Huttlestone) hears the music of the Clash for the first time, it's a revelation, opening up a new world of social consciousness and anti-establishment defiance beyond anything he's known in his dead-end London suburb. After his father is injured in a work accident, Shay takes over driving his cab and one fateful night, picks up none other than Joe Strummer (Jonathan Rhys Meyers), the lead singer of the Clash. Drawn into the heart of the city's burgeoning punk scene, Shay forges two relationships that will change his life, falling in love with rebellious cool girl Vivian (Nell Williams) and finding and unexpected connection with the Clash's electrifying frontman.
Through being forced to take care of his family, his friendship with Strummer and his relationship with Vivian, Shay passes some important milestones on his way to adulthood.Propelled by a blistering soundtrack that bounces from the Clash to the Ramones to Buzzcocks, 
London Town
captures the sound and spirit of a scene that shook the world. And lives on still.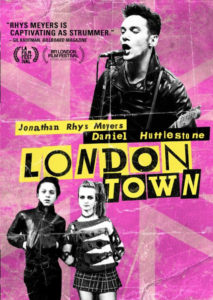 The IFC Films theatrical release co-stars Natascha McElhone and Dougray Scott. It features the classic music not just of the Clash but of such other major artists as the Ramones, Buzzcocks, the Stranglers, Toots and the Maytals, Willi Williams and Stiff Little Fingers. It was an official selection of the BFI London Film Festival and the Los Angeles Film Festival.