We can name the one major reason the country goes into terror this month. But we'd rather name three reason, good ones, that will frightened film fans looking for movies that trump releases from those "big" Studios.
MVD Entertainment Group keeps furthering the distribution of Arrow Video in the U.S. with a triumvirate of titles to kick off 2017.  Each release is crammed with incredible extras and bonus tracks.
Fans of Japanese crime cinema will revel Takashi Miike's Black Society Trilogy, arriving on Blu-ray and DVD. After several years spent working almost exclusively in the direct-to-video world of "V-cinema" in Japan, Miike announced himself as a world-class filmmaking talent with this trio of thematically-connected, character-centric crime stories about violence, the underworld of Japanese society, families both real and surrogate, and the possibly hopeless task of finding one's place in the world.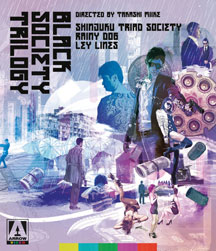 His first films made specifically for theatrical release, and his first for a major studio, the "Black Society Trilogy" was the beginning of Miike's mature career as a filmmaker and they remain among the prolific director's finest works.These stylish and gripping crime films put Miike on the cinematic map and proved he was more than just a specialist in blood and guts. See the films that made Miike's name as a master of Japanese crime cinema with this exciting set; including Shinjuku Triad Society, Rainy Dog and Ley Lines, in beautiful high definition transfers, the set also contains a host of special features including a brand new interview with the director himself.
Fresh from recent festival and filmmaker acclaim, 
We Are the Flesh
debuts on DVD and Blu-ray. 
We Are the Flesh
is a Mexican arthouse head-trip which takes you on a nightmarish journey into a post-apocalyptic hell. Outrageous and explicit, it sees a brother and sister taken in by a strange hermit who uses them as he acts out his own depraved fantasies. The longer they stay, the more they find themselves slipping into the darkness, despite their better judgement.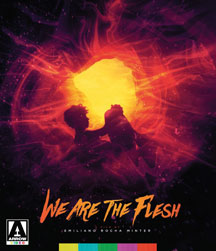 This bizarre slice of Mexican arthouse is one of the most unsettling film experiences you will ever have and an all-out psychedelic head-trip. It details the adventures of a brother and sister who take refuge with a strange hermit in a post-apocalyptic city. As he acts out his dark, depraved fantasies, they find themselves drifting further into the realms of the forbidden.
Last but not least, the United States gave motorcycle-mad cinemagoers
Easy Rider, The Wild One
and
The Wild Angels
. The United Kingdom gave them
Psychomania
, the tale of zombie bikers run amok is southern England, coming to dual format DVD + Blu-ray on
February  21
.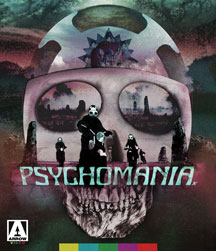 The Living Dead are a delinquent biker gang, fond of causing havoc on British roadways and making out in graveyards. Gang leader Tom (played by Nicky Henson) also has a Satanist for a mother, and when he discovers the secret of immortality, the name of his motley crew takes on a more literal meaning. 
Psychomania
is a wonderfully offbeat gem, outlandish and eccentric in equal measure.