Nearly 30 years after Roseanne Barr's groundbreaking sitcom Roseanne became the No. 1 show on television, Roseanne for President! (IFC) brings you the story of the Emmy-winning actress and trailblazing comedian's 2012 gonzo campaign for President of the United States.
Money was one of Barr's signature talking points when she ran for president, first as a Green Party candidate and ultimately as the Peace and Freedom Party's nominee.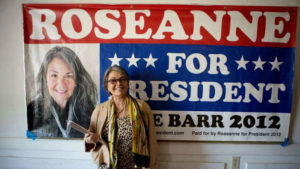 And now, the movie. The flick was  directed by Michael Moore collaborator Eric Weinrib. Barr and Moore are also friends. He's the person who encouraged her to film her campaign endeavor.
Having created a sitcom that changed the cultural landscape by revolutionizing what Americans think of family, class, race, gender and gay rights, Roseanne is uniquely qualified to fix well, everything.
Through the warped lens of the Barr Campaign, this surreal dark comedy examines the impact Roseanne's work has had on society and who she is as a person. Her motivations for seeking office? They were the same motivations she's had since her boundary-breaking eponymous sitcom: Never stop fighting for the less-privileged class.