IFC Films offers an August filled with a trio of must-see, must-own films.
11 Minutes
In the span of 11 tense minutes, a whirlwind of interlocking tales of life in the surveillance age unfold in this stylish, propulsive thriller from acclaimed director Jerzy Skolimowski. In a city square in Warsaw, a sleazy film director "auditions" a married actress in a hotel room; a hot dog vendor goes about his work while concealing a dark secret; a drug runner has a tryst with a client's wife; and a young man plots an ill-advised robbery.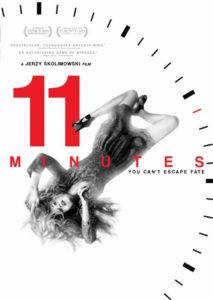 Mixing sleek cinematography with footage from webcam, smartphone and CCTV cameras, 11 Minutes masterfully lays out the pieces of a puzzle and then brings them together in an explosive climax.
The IFC Films theatrical release, a winner of multiple prizes at the Venice Film Festival, Polish Film Festival and Lisbon & Estoril Film Festival, stars Richard Dormer, Paulina Chapko, Andrzej Chyra and Wojciech Mecwaldowski. "
Sky
In this captivating, star-filled road movie, a French woman finds liberation in the dusty highways, open spaces and smoky barrooms of the great American West. Diane Kruger stars as Romy, a Parisian who, while on vacation in California, breaks things off once and for all with her boorish husband (Gilles Lellouche) in a dramatic final fight.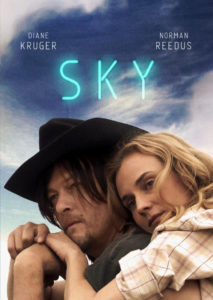 Now a free woman in a strange land, Romy embarks on a life-changing trip through the desert, crossing paths with strangers who impact her life in various ways: a kindly small-town police officer (Joshua Jackson), a pregnant, trailer park-dwelling mother (Lena Dunham) and a charming, ruggedly independent cowboy (Norman Reedus), with whom she finds the possibility of new love. Beautifully capturing the landscapes and soul of the Southwest, Sky, an IFC Films theatrical release and an official selection at the Toronto International Film Festival, is a stirring emotional odyssey about what it means to start your life over again.
Weiner
Anthony Weiner was a young congressman on the cusp of higher office when a sexting scandal forced a humiliating resignation. Just two years later, he ran for mayor of New York, betting that his ideas would trump his indiscretions. With unprecedented access to Weiner, his family and his campaign team, the universally acclaimed flick is a thrilling look inside a political comeback-turned-meltdown. What begins as an unprecedented surge to the top of the polls takes a sharp turn once Weiner is forced to admit to new sexting allegations.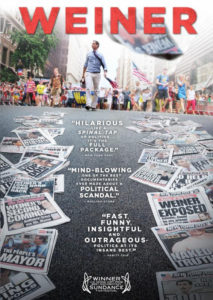 He desperately tries to forge ahead, but the increasing pressure and crippling 24-hour news coverage halt his political aspirations. With the city of New York as a loud and bustling backdrop, Weiner walks the line between political farce and personal tragedy as it plunges through an increasingly baffling campaign with unflinching clarity, humor and pathos. The IFC Films theatrical release won the U.S. Grand Jury Prize for documentary at the Sundance Film Festival.