It's been called "an intimate, star-studded comedy that functions like an indie blockbuster, but it feels too big to be considered a regular indie, with a massive cast and its appetite for humor more equivalent to a studio project than any Sundance film."
Did someone say "humor?" Indeed. Joshy, the set-up for writer/director Jeff Baena's follow-up to  Life After Beth may sound familiar: This is a film about a life-changing reunion at a rented house. But not right away: The space for the Ojai, California bachelor party for Joshy (a marvelous Thomas Middleditch) was rented long before he suffered heartbreak from a cancelled engagement, and now it's become a guy's weekend.
After his suddenly ends, Joshy and a few of his friends decide to take advantage of what was supposed to be his bachelor party in .  In their attempt to help Joshy deal with the recent turn of events, the guys turn the getaway info a raucous weekend filled with drugs, booze debauchery and hot tubs. As the film unravels, so do the laughs . . . and the sadness.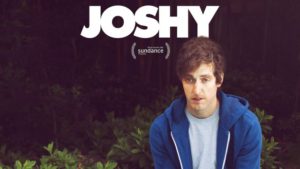 After earning lots of laughs at its Sundance Film Festival premiere, Joshy has arrived on Blu-ray (plus Digital HD), DVD (plus Digital) and Digital HD from Lionsgate. Rounding out the hilarious cast is Adam Pally, Nick Kroll and Jenny Slate.
We refuse to say anything more, except Joshy is a must-see.