The hurricane named Florence hits Myrtle Beach in a day or two, but  the hurricane is already there, 365 days a year, 24 hours a day. Its name? Myrtle Beach Management. They are located 821 Second Avenue, North Surfside Beach, SC 29575. Their phone: (800) 968-9279. Their email: mymyrtlevacation.com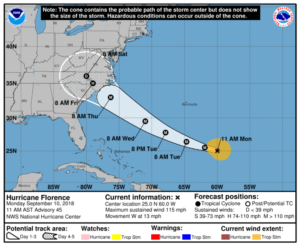 I paid $962.66 for a six-stay at Myrtle Beach Resort A503, whose address is  5905 South Kings Highway, Myrtle Beach, SC 29575. When Florence made the scene, Henry McMaster, the Governor of South Carolina, issued a mandatory evacuation for people along the coastline in preparation for Hurricane Florence. Millions of people have been evacuated. Roads have been turned into one ways—away from Myrtle Beach.
"This is not the time to take a chance,"  McMastersaid. "We do not want to gamble with a single South Carolina life. I have ordered a full coastal evacuation effective noon tomorrow, Tuesday, September 11."
Spirit Airlines gave me a full refund of tickets and baggage fees. A man, reportedly named "Pat" who reportedly works at Myrtle Beach Management, refuses to refund my money. He wanted me to travel to honor the reservation despite the what CNN has called "a monster"!
As my lawyer pointed out in an email to Myrtle Beach Management: Your email of today (September 11) states: " We are under no obligation to modify your reservation." Pursuant to this, you are stating that you would have never refunded his costs, even though the Governor of South Carolina put South Carolina under a State of Emergency—making travel illegal. In essence, you were asking him to risk his life.
Unless I am refunded the full amount, my attorney will file a case against "Pat" and Myrtle Beach Management at Horry County Magistrates Court Surfside Magistrate Office/9630 Scipio Lane/ Myrtle Beach, SC 29588-7575.
See you in court!