It's broken, and we pray no one fixes it. The hysterical series 2 Broke Girls is not only longer funny, but it's been nominated for nine Emmys. Not bad for a series about to begin its sixth season.
Can't wait for new shows? Go back and laugh. Again. Start banking those laughs as Warner Bros. Home Entertainment brings 2 Broke Girls: The Complete Fifth Season to DVD on September 20.  The set will include all 22 half-hour episodes from the fifth season and unaired deleted scenes.  Warning! You may want to stock some adult diapers from the gag reel. Rosemary Markson, WBHE Senior Vice President, TV Marketing, agrees: "2 Broke Girls delivers one-liners that are worth a million bucks."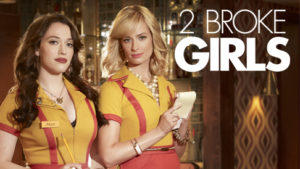 In season five, street-wise Max (a funny Kat Dennings) and Caroline  (a funnier Beth Behrs) continue to wait tables at the diner while trying to build their new business—a dessert bar! Caroline goes to Hollywood to meet with studio executives to discuss the idea of making her riches-to-rags life story into a movie. Max tags along and meets Randy (guest star Ed Quinn) — who becomes her new beau . . . but will it last outside Hollywood? Sophie and Oleg are expecting, and pregnancy can't slow these two lovebirds down. Han finds himself in trouble when he can't repay his debt from gambling on women's tennis, but the diner gang rallies together to help him. Earl gets his feelings crushed when he discovers his old jazz band is having a reunion and he is not invited to play—it's up to Max and the diner gang to make it happen.
Adds Markson: "With the combination of the brilliant writing that is legitimately hilarious and edgy, and TV's favorite leading ladies, this series is sure to have you laughing over and over again!"