Color us happy. Ever since "adult" coloring books came into vogue, we have been using a palette of favorites to create beauty . . . while reliving imagination and soothing anxiety, usually in shades of mauvelous.
We have just discovered  a beautiful and inspiring line of coloring books and greeting cards from HCI that are the perfect antidote to a chaotic and troubled world.
Inkspirations coloring books offer a way to turn off negativity while healing the spirit. Art therapy has long proven its effects as an aid in emotional and mental restoration, and it is not news that coloring as active meditation reduces stress and quiets thoughts. From the original publishers of Chicken Soup for the Soul now comes a line of coloring books ready to encourage, inspire and help worries fade.
Whether coloring with friends, family or on your own, it doesn't take much to color your day a little brighter. With moving quotes alongside unique and graceful images, Inkspirations coloring books include a wide array of themes to help express creativity and enjoy therapy through coloring.
We love 'em all, but were happy to see Inkspirations in the Garden.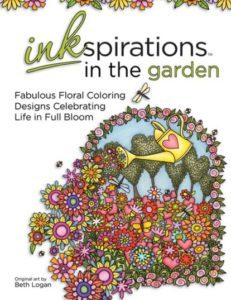 Anyone blessed with a green thumb knows that a garden is nature's haven, and when properly tended can transform a patch of ground into a place of splendor that abounds with intoxicating colors, scents and wildlife. Inkspirations in the Garden celebrates gardens in all their glory, from images of delightful cottage gardens to well-manicured rose gardens, from lush tropical gardens to relaxing Zen gardens. The original designs feature exquisite floral patterns to color and customize, plus heartwarming scenes of lovable backyard critters, like ladybugs and bumblebees, and even the squirrels and rabbits who sometimes become our garden nemeses. Inkspirations in the Garden pays homage to those who make weeds into wonders and have been enriched by gardening's lessons about a life well-tended and nurtured.
Inkspirations for a Happy Heart shares more than 30 original designs to make your own, plus motivating mantras to help you relax, unwind, and greet each day with renewed optimism and creative energy. Whether you're new to coloring or a gel-pen aficionado, you may have already admired the artistic creations of Diane Yi, whose stunning artwork has been shared, pinned or colored around the world.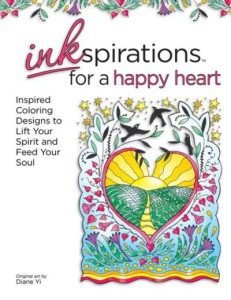 With Diane's style of intricate details with exquisite flourishes, Inkspirations for a Happy Heart provides a perfect canvas that will inspire you to color your world a little brighter.
The cat's meow? Inkspirations for Cat Lovers. Cats are curious, regal, intelligent, and playful. They oblige us humans by allowing us to share our lives and hearts with them. Inkspirations for Cat Lovers celebrates the magic, mystery and merriment of cats throughout the seasons, from Siamese to the Sphinx, Abyssinians to Persians, Maine Coons to calicos, and more. From long-haired to short-haired and everything in between, you will find more than 30 original designs that celebrate the many ways in which cats bring joy (and fur!) into our lives.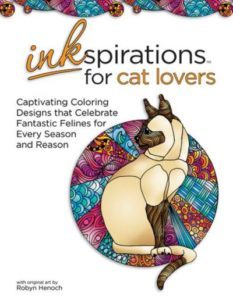 Inkspirations for Cat Lovers is a fitting tribute to our whiskered companions who color our world brighter every day.
Visit Inkspirations.com or amazon.com for more details or to order.