They are lions, hear them roar. Join Kion and his friends as they unite to protect the Pride Lands and maintain the Circle of Life with the new Disney DVD The Lion Guard: Unleash the Power! Save the date: September 20. Packed with action, music and more than two hours of fun, the story proves that when heroes join forces, they are truly a force to be reckoned with.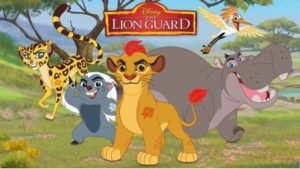 The Lion Guard continues the high as it continues the epic storytelling of Disney's The Lion King. The high works because of Lowe . . . Rob Lowe 's vocal talents work magic as Simba. The story follows the adventures of Kion, the second-born cub of Simba and Nala, and his diverse group of friends-Bunga, a fearless honey badger; Fuli, a confident cheetah; Beshte, a friendly and good-spirited hippo; and Ono, an intellectual egret. Together, Kion and his friends make up the Pride Lands' fiercest, bravest, fastest, strongest and keenest of sight.
Think you will recognize the other voices? Watch and wonder! We'll give you one clue: Modern Family icon Sarah Hyland plays . . .