An arrow we don't mind aiming right at us: The thrilling CW series Arrow. Viewers can catch up with the show as Warner Bros. Home Entertainment releases Arrow: The Complete Fourth Season on Blu-ray including Digital HD and DVD on August 30.  The show is so popular that it averages four million viewers weekly for each original episode; Arrow is The CW's No. 3 show among Total Viewers, behind The Flash and DC's Legends of Tomorrow, and the No. 2 series on The CW among adults ages 18-34. Yep, this Arrow hits its target every time.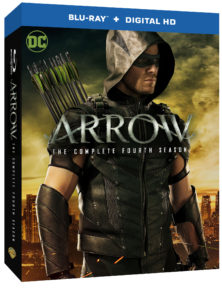 The box set contains all 23 exhilarating episodes from the fourth season, as well as The Flash crossover episode; plus more than an hour-and-a-half of extra content, including the 2015 Comic-Con Panel, never-before-seen featurettes, deleted scenes and a gag reel.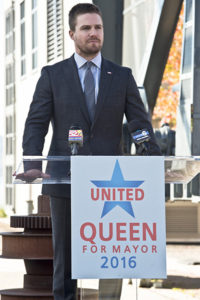 To catch up: After defeating his most formidable foe to date and riding off into the sunset with longtime flame Felicity Smoak, Oliver Queen (aka The Arrow) left Star City with the hopes of beginning a new life. But will Oliver ever truly be able to leave behind his past as The Arrow, and, if so, what becomes of the team he has worked so hard to assemble? Will military vet John Diggle, Oliver's sister Thea Queen, and lawyer-turned-vigilante Laurel Lance continue Oliver's fight without him? And with Malcolm Merlyn having ascended to the top of the League of Assassins as the new Ra's al Ghul, is anyone really safe?
Arrow, based on the characters from DC Comics, stars Stephen Amell, Katie Cassidy, David Ramsey, Willa Holland and Emily Bett Rickards, with John Barrowman and Paul Blackthorne.
Amell never tires of the role or show. No kidding around.
"I was at a convention recently, and my response got a lot of play because the question was very straightforward," he recalls. "It was, 'Why does Oliver love Felicity?' I had to give a straightforward answer, because it was like an eight-year-old girl who asked the question! So it's not like I could be flippant and sort of dance around the question and give a sort of humorous response. It was more, this girl was legitimately asking and wanting to know, and I didn't know how literally she took the characters, so I had to give a very straightforward response. You get great questions all the time, and they almost always come from kids."