The answer, my friend, is blowin' in the wind.
I have such cherished memories of spending time with Mary Travers throughout the years. Then, on September 16, 2009, one day before my birthday, something happened to Mary: She died.
Now Peter and Paul, apostles of folk music, continue the legacy.
50 Years with Peter Paul and Mary  (MVD Entertainment Group) is a new documentary by four-time Emmy-winning producer/director Jim Brown that focuses on portions of the trio's career not included in previously aired PBS specials. This program features rare and previously unseen television footage including a BBC program from the early '60s that embodies many of the trio's best performances and most popular songs.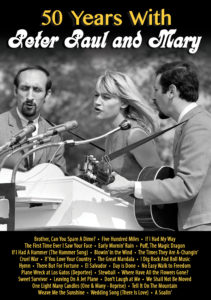 This is Peter Paul and Mary at the peak of their artistry, a time when this popular and influential trio dominated the Billboard music charts.  From the group's emergence in Greenwich Village, to the Civil Rights and Antiwar era of the 1960s, through the decades of their later advocacy and music, to Mary's moving memorial, and finally to the present, where their legacy continues to inform and inspire successive generations, this far deeper and more intimate exploration of the trio reveals the impact of their artistry and activism on their generation and the world. Celebrate the trio whose anthems provided America's soundtrack for generations. And still do.