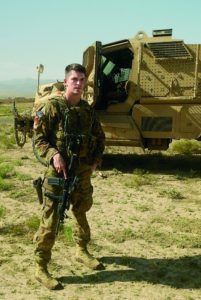 TJ Lobraico, a young Air Force Staff Sergeant from a small-town in Connecticut, was on patrol with his unit in Afghanistan, five miles north of Bagram Airfield in September of 2013. The American patrol interrupted an enemy IED team, and TJ ran into enemy fire to protect his teammates and the K9 unit patrolling with them.   He was hit multiple times by small arms fire and died on the battlefield.
TJ was born into a close USAF family that served together at Stewart Air National Guard Base in New York. His mother is a Lt. Colonel and his father a USAF Master Sergeant in the security forces, both in the same unit in which TJ served. His stepfather is a former Air Force medical technician and his grandfather a retired two-star general.  TJ's brother-in-law was with him when he died.
He was sworn in by his mother, and later buried by her after falling in combat. Family Mission: The TJ Lobraico Story (Virgil Films) is TJ's story, but also that of an Air Force family that lost their youngest member to enemy fire, but still continues to serve; service to country is a true family mission.