There's nothing quite like the sound of a steak hitting a perfectly seasoned cast-iron pan. No beefing here. Chef Rachel Narins demystifies the caring for cast iron with Cast-Iron Cooking (Storey Publishing, $12.95) a friendly, accessible introduction to the properties, perks and full range of possibilities that come along with this classic cookware.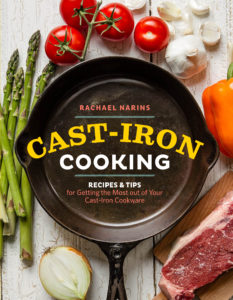 From stove top to oven to campfire to grill, this affordable, long-lasting material is unmatched in its versatility and the tasty tome will teach readers how to take full advantage of it,  from breakfast to dinner to dessert. Full-color photos bring the recipes to life, and tips for outdoor cooking make this a book that will travel to many a campsite or hunting cabin. Narins will leave readers confident and eager to pull their pans off the shelf and get cooking.
Air-frying is the hottest trend in the kitchen . . . fantastic fried taste and texture with up to 80% less fat! Although they are called air fryers, they also roast and bake, making them an indispensable kitchen appliance. Camilla Saulsbury brings her extensive recipe development skills to 175 Best Air Fryer Recipes (Robert Rose, $24.95), and has created recipes exclusively designed for and guaranteed to perform
in an air fryer.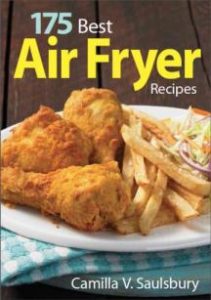 By cooking with circulated super-heated hot air, you'll create an amazing variety of recipes—from classics to modern-day favorites. From Classic French Fries and Beer-Battered Fried Fish to Buttermilk Fried Chicken, you'll get all the fantastic flavor without the fat. Imagine being able to enjoy Old-Fashioned Cake Donuts and Coconut Shrimp without the guilt! Not to mention being able to indulge in desserts like Chocolate Hazelnut Fudge Cake and Bananas Foster.
Knives & Ink (Bloomsbury USA, $24) is as sharp as a butcher's knife and as fresh as some hand-grown radicchio. Chefs take their tattoos almost as seriously as their knives; from gritty grill cooks in backwoods diners to the executive chefs at the world's most popular restaurants, it's hard to find a cook who doesn't sport some ink.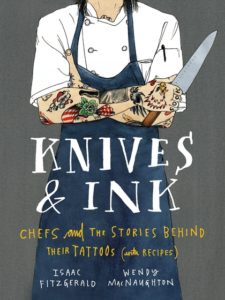 Bestselling illustrator Wendy MacNaughton and book editor Isaac Fitzgerald reveal the stories behind the tattoos that chefs proudly wear, along with their signature recipes. Like the dishes these chefs have crafted over the years, these tattoos are beautiful works of art. Knives & Ink delves into the wide and wonderful world of chef tattoos and shares their fascinating backstories, along with personal recipes from many of the chefs.
The French way to savor dessert? It's a petite treat: Two delicious bites, just a taste, of a sable, madeleine, petit four, nougat, caramel or other dessert that packs a sweet punch. With the tiny desserts featured in Les Petits Sweets: Two-Bite Desserts from the French Patisserie (Running Press , $18), you can have a dessert-tasting party to try them all.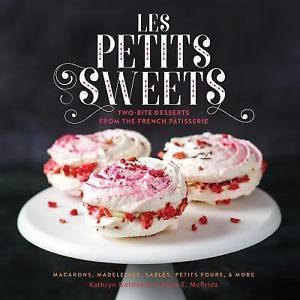 Classic French techniques explain each recipe from start to finish, and lots of variations yield nearly infinite flavor combinations, all illustrated with full-color photography. Go ahead, have dessert first. Oui!
There's always something sweet in the oven at Honey & Co., the tiny restaurant in London where the day is marked by what comes out of the pastry section. In the morning, sticky buns are stuffed full of cherries and pistachios; loaves of rich dough are rolled with chocolate, hazelnuts, and cinnamon.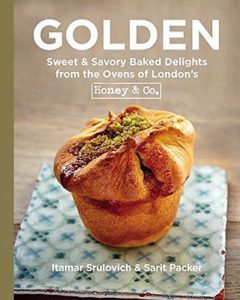 Lunch is a crisp, crumbly shell of pastry filled with spiced lamb or burnt eggplant, and at teatime there are cheesecakes and fruitcakes, small cakes, and massive cookies-so many treats that it's hard to choose one. And after dinner? Poached peaches with roses, something sweet and salty drenched in orange blossom syrup, or maybe even a piece of fresh marzipan. Dig in and taste the treats that fill Golden: Sweet & Savory Baked Delights from the Ovens of London's Honey & Co. (Little, Brown and Company, $30).
Bestselling author, vegan goddess and comfort food queen Isa Chandra Moskowitz is back with The Superfun Times Vegan Holiday Cookbook: Entertaining for Absolutely Every Occasion (Little, Brown and Company, $32) to prove that making festive vegan food for any occasion can be easy, delicious . . . and superfun.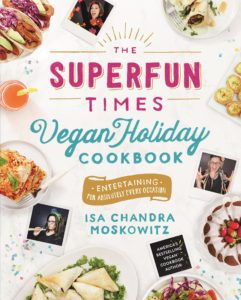 Gone are the days of stressing over how to please family and friends with different dietary needs. Isa provides everything you need to get your party started, from finger food and appetizers to casseroles, roasts, and dozens of special sides. Then comes a throng of cakes, cookies, cobblers, loaves, pies, and frozen treats to make you feel like the best dang vegan cook in the world.
Prepare a feast fit for a warchief with World of Warcraft: The Official Cookbook (Insight Editions, $35), a delicious compendium of recipes inspired by the hit online game from Blizzard Entertainment.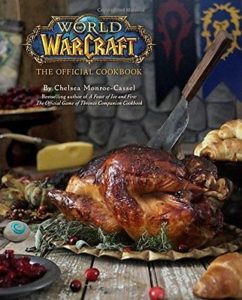 Presenting delicacies favored by the Horde and the Alliance alike, this authorized cookbook teaches apprentice chefs how to conjure up a menu of food and drink from across the realm of Azeroth. Featuring food pairings for each dish, ideas for creating your own Azerothian feasts, and tips on adapting meals to specific diets, this otherworldly culinary guide offers something for everyone. Each chapter features dishes at a variety of skill levels for a total of more than one hundred easy-to-follow recipes for food and brews.
Deep Run Roots: Stories and Recipes from My Corner of the South (Little, Brown and Company, $40) is a great cookbook, a perfect pictorial storybook and a a hefty tome that could help you keep in shape between cooking.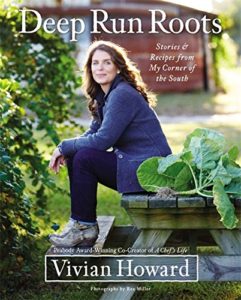 Vivian Howard, star of PBS's A Chef's Life, celebrates the flavors of North Carolina's coastal plain in more than 200 recipes and stories, proving that the food of Deep Run, North Carolina—Vivian's home—is as rich as any culinary tradition in the world. Organized by ingredient with dishes suited to every skill level—from beginners to confident cooks—Deep Run Roots features time-honored simple preparations alongside extraordinary meals from her acclaimed restaurant Chef and the Farmer. Home cooks will find photographs for every single recipe. Fried Yams with Five-Spice Maple Bacon Candy, anyone? A perfect bookend: Season 4 of A Chef's Life (PBS Distribution), in which Vivian wrangles up sweet spring onions with special help from The Avett Brothers, and then turns a roster of watermelon, sunchokes, field peas, and more into new-fashioned fare. She even cooks up rabbit, which she calls 'the meat of the future' makes the menu. That's all folks!
Grab your friends and get cooking in the land of Ooo with Adventure Time: The Official Cookbook (Insight Editions, $29.99), featuring recipes from all your favorite characters and kingdoms. In the Founders' Island Library, Finn discovered the remains of an old cookbook filled with dishes such as "lasagna" and "boiled eggs."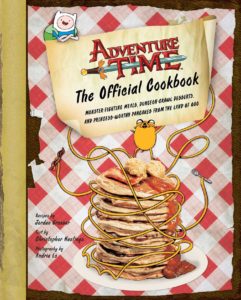 And he was pretty sure that the cookbook had belonged to his mom at some point. Weird. So Finn took it upon himself to fill up the book with as many crazy delicious food ideas as he could. And since that only filled around six pages, he recruited Jake, Marceline, Princess Bubblegum, and the other citizens of Ooo to help complete the cookbook. There was pouring! There was mixing! There was a pasta-related Wizard Battle!
Is there anything more romantic that the primal rush of slurping a raw denizen of the sea? With yummy text by Rowan Jacobsen and lavish four-color photos throughout by renowned photographer David Malosh, The Essential Oyster (Bloomsbury USA, $35) is the definitive book for oyster-lovers everywhere, featuring stunning portraits, tasting notes, and backstories of all the top oysters, as well as recipes from America's top oyster chefs and a guide to the best oyster bars.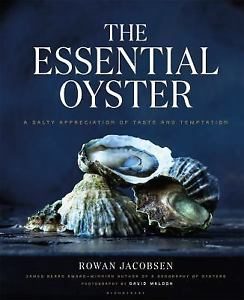 Spotlighting more than a hundred of North America's greatest oysters, the book introduces the oyster culture and history of every region of North America, as well as overseas. There is no coastline from British Columbia to Baja, from New Iberia to New Brunswick, that isn't producing great oysters. For the most part, these are deeper cupped, stronger shelled, finer flavored, and more stylish than their predecessors. Some have colorful stories to tell. Some have quirks. All have character.
We won't clam up about another nifty book about oysters: Oysters: A Celebration in the Raw (Abbeville Press, $24.95) is true to its title from start to finish. Chapter One is a primer on all things oyster. Chapter Two introduces readers to legendary oystermen and women from around the country.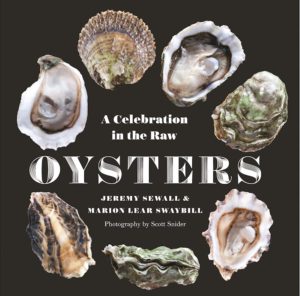 Chapter Three offers exquisite photographs of more than fifty varieties of North American oysters, along with flavor profiles and "merroir." The book concludes with highlights from the oyster timeline, depictions of oysters in art through the ages and stories of oysters as aphrodisiacs, and parses oyster myths and metaphors. The book also features an oyster glossary and resource list. It is the only book of its kind—a definitive visual companion to this iconic, much loved mollusk.
True rye bread―the kind that stands at the center of northern and eastern European food culture―is something very special. With over 70 classic recipes, The Rye Baker: Classic Breads from Europe and America  (W.W. Norton, $35) introduces bakers to the rich world of rye bread from both the old world and the new.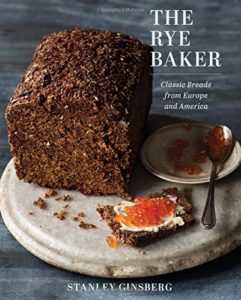 Award-winning author Stanley Ginsberg presents recipes spanning from the immigrant breads of America to rustic French pains de seigle; the earthy ryes of Alpine Austria and upper Italy; the crackly knäckebröds of Scandinavia; and the diverse breads of Germany, the Baltic countries, Poland and Russia. Rounding out this treasury are reader-friendly chapters on rye's history, unique chemistry, and centuries-old baking methods.
Damn Fine Cherry Pie: And Other Recipes from TV's Twin Peaks (Harper Design, $24.99) is a damn fine collection of 75 mouthwatering recipes, inspired by iconic scenes and characters from David Lynch's groundbreaking cult classic series Twin Peaks—returning to television in 2017 with 18 new episodes on Showtime.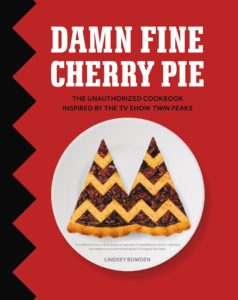 The show has also impacted popular culinary traditions; there are Double R Diner copycat diners, pop-up dining experiences, doughnut-eating contests, and David Lynch's signature coffee. Now, fans hungry for a Twin Peaks fix can sate their appetite with this quirky cookbook that pays homage to the show. Lindsey Bowden, the founder of the Twin Peaks festival in the UK, has gathered dozens of recipes inspired by its most memorable scenes and characters, including Percolator Fish Supper, the Log Lady's Chocolate and Chestnut Roulade, and the Double R Diner's famous Cherry Pie.