We were fascinated by The Freedom Broker (Quercus, $26.99), the debut novel by K.J. Howe. Actually, it's better described as a mystery . . . a book that almost drowns readers as they swim throughout the world of freedom brokers, those whose sole job is to brings hostages home. "You're alive," says Howe, "but not really living, dependent on your captors for absolutely everything." The tome introduced us to The tome introduced us of Thea Paris, a female freedom broker.
Those who know us know we relish the underbelly of life (think Frank Sinatra Jr. kidnapped; better yet, think about Patty Hearst) so we wanted to chat with Howe about her words and wisdom, hoping there's another trip to Paris.
There are many authors writing mysteries. How did you make sure your book idea was fresh and different?

From where do ideas come?
Growing up, I lived all over the world, as my father worked in telecommunications. I experienced many adventures in places like Saudi Arabia, Kenya, Puerto Rico, Austria and Switzerland. Several locales had a shadow of danger associated with them, so when I started writing, I chose the international thriller genre. It was an ideal fit.  I discovered there were a group of 30 elite kidnap negotiators who travel to the globe's hotspots to bring hostages home. This led to the creation of Thea Paris.  For Thea, rescuing hostages is more than a job; it's a calling, as she had a very personal experience with kidnapping when her brother was abducted at 12.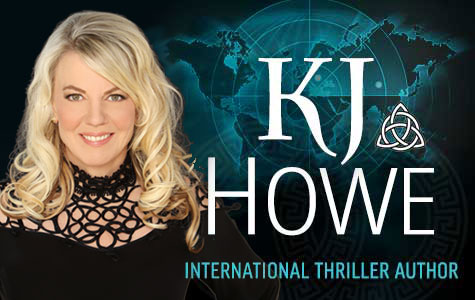 Kidnapping intrigued me; it's a purgatory of sorts. Hostages have to deal with intense hardship, loneliness, boredom and the terror of waking up every day wondering if it might be their last. I've spent the last three years immersed in this world to bring verisimilitude to the series.  I have the deepest respect for these freedom brokers who risk their own lives to help people in captivity.
For me, ideas tend to sprout when I'm researching a topic, and the story grows from there. When I read novels, I like to be entertained and also learn something.  I tried to integrate interesting facts about kidnapping in The Freedom Fighter so that people can understand more about this international growing crisis.
I know you worked with and interviewed Dr. Frank Grimm and Peter Moore before stepping in the shoes of a K&R negotiator. What did you learn that surprised you? What pre-conceived notions were blown away?
Spending time with these experts has been an illuminating experience. There are over 40,000 reported kidnappings every year—and that means around five people are abducted with every hour that passes.  Kidnapping has become an international crisis, and the problem continues to grow; terrorist organizations are using it as a fundraising mechanism, and displaced military and police in struggling countries are turning to kidnapping as a way of putting food on the table for their families.
One shocker was on the insurance side of the business. It is the one type of insurance where if benefactors know they are covered, the insurance may be null and void.  The reason for this is to protect against people "kidnapping" themselves and collecting the ransom.  Kidnap and ransom insurance coverage can go up to 50 million dollars.
It used to be that targets were mostly executives in foreign countries and high net-worth individuals. This is no longer the case.  Journalists, aid workers, missionaries and everyday people are targeted.  It's important to be cautious if you are traveling to an area where there is a high risk of kidnapping.  My website www.kjhowe.com has a  map of the world that highlights hot zones.
Are you a mystery reader? Who are some favorite authors?
Crime fiction is my favorite genre. I'm an avid fan of authors like Greg Iles and his incredible Natchez Burning trilogy; David Morrell, the creator of Rambo and author of more than 40 bestsellers; Andrew Gross, whose latest book The One Man really resonated with me; and Lisa Gardner, as every book she writes is a guaranteed great read.
Are you scared to read mysteries at night?
I don't mind dark fiction, day or night. I find it fascinating.  That said, sometimes I am scared to start a good crime novel in the evening, as I might stay up all night reading it!
Do you know Mary Roberts Rinehart, highly regarded as the first female mystery author who is now an icon?
Yes, if I'm not mistaken, the talented author of The Circular Staircase is attributed with creating the well-known phrase, "the butler did it" in her novel The Door, where the butler actually did the crime. Mary also spoke publicly about her breast cancer in 1947 when health issues were not openly discussed.  She was a trailblazer in the book world, and I have a great deal of respect for her work.
You both gave us thrills. Talk about Thrillerfest.
It is a conference held every July in Manhattan for thriller enthusiasts. I have the honor of being the executive director of this week-long event.  We welcome more than 1,000 people, including some of the top names in the genre.  We host a day at the FBI, where special agents talk about their area of expertise.  We also offer an event called PitchFest where aspiring authors pitch their novels to agents, editors and producers.  Add in workshops, spotlight interviews, panels and cocktail parties, and we have summer camp for anyone who loves page-turning fiction.  This year, we have a blockbuster line-up that includes Lee Child, Lisa Gardner, C.J. Box, Nelson DeMille, Charlaine Harris, Steve Berry, J.A. Jance, and many others.  Visit thrillerfest.com for more information.
I have Type II diabetes. My mother had Type I, and I know the struggle of living with the disease. Having known Mary Tyler Moore, who did much to fight diabetes, I know the struggles she confronted. What are your struggles? What keeps you from reaching for a piece of gooey cake you know you should not (must not?) have?
There are more than 29 million Americans who have this illness, and, sadly, the numbers are on the rise.  My character Thea Paris has Type 1 Diabetes.  I'm a former medical writer, and my grandfather had diabetes, so this issue strikes home with me.  I remember watching him inject himself with needles, and that left an indelible impression.  I wanted to feature a strong, talented woman with diabetes to inspire people with any chronic illness to keep striving for their dreams.  Anything is possible with the right determination.  As for that gooey cake, I try to always think long-term gain vs. immediate gratification!