It really started with an ad on Craigslist. Really.  The ad went up at 9:13 a.m. on February 13, 2013. It read:
TWO MEN NEED WEDDING DATES
My brother and I are looking for wedding dates. We've been told by the bride that bringing dates is "mandatory" so we "won't harass all of my friends all night" and "stay under control." Rather than ask some fringe women in our lives to go and face the inevitable 'does this mean he wants to take it to the next level!?' questions, we'd rather bring complete strangers and just figure it out. Still reading? In anticipation of your questions we've developed an FAQ section below. Dave, Mike
What's in it for me? • An excuse to get dressed up • Open bar & food all night • Eccentric/downright dangerous bro-2-bro dance moves (may need to sign a waiver) • Adventure • Mystery • Suspense • True Love • Royalties once our night's story is developed into a romantic comedy* *if this happens (we estimate the chances at 85%) we refuse the right to let Ashton Kutcher play either of our characters, however, we will consider him for a supporting role.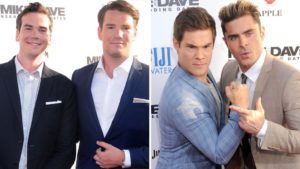 SO – What are you fellas like, anyway? Oh us? We're both in our 20s, single, dashingly tall, Anglo-Saxon, respectfully athletic, love to party, completely house trained, relaxed, passionate, smell great, have cool hair, clean up nice, boast great tie collections, will promise to shave, love our mother, have seen Love Actually several times, controversial, provocative, short-sighted (with a big picture mentality), raw, emotional, sensitive but still bad boys. What should us ladies be like? You should respond in pairs as you'll want to know at least 1 person at this wedding. Sisters (twins?!) are preferable, but we'll take friends, or even enemies. You should be attractive or our aunts will judge you, but not TOO attractive or one of our uncles might grope you. You should be relaxed and easy going as we'll probably make up flattering lies about you on the spot. You should own a dress, or be able to acquire one because we don't have any. If (when) you respond you should send some pictures of yourself so we know you've met the above requirements. Feel free to include a resume; this is a classy wedding and we're looking for well-rounded women. Interesting/unique pairings are encouraged; don't be afraid to make yourself stand out! This feels kinda creepy, are you guys Craigslist killers? 3 No. Well, if you want to be techni.. nevermind. No, we aren't. We just genuinely want to do something different and we don't see any other way to approach it. What would verify our normalness? Facebook? Instagram? We can have a pre-date screening (interview) prior to the wedding and play 20 questions over a coupla cocktails if you'd like? We're IN! What now? First off — smart thinking. Email us, send along some pictures, information, high school athletic stats, questions, etc. We'll take it from there. THE REAL STANGLE BROTHERS
Mike and Dave were surprised by the response it received. As Dave points out: "We thought the only logical way to get dates that knew each other, that would hang out with the two of us, was to put this on Craigslist. We wrote it, kind of thinking it was a joke that we could send to each other."
With literally thousands of responses, the brothers had soon attracted national attention, discussing their creative dating tactics with Matt Lauer on the Today show and with Anderson Cooper on CNN.
The Stangles were, after all, only doing what came naturally. "I mean, that was kind of the whole point," Mike says. "We realized that people actually were paying attention to us and so we were cool for the first time in our lives. For a neat little month we went on as many dates as we possibly could." Adds Dave: "We did a lot of double-dating."
The ad worked. A movie was made. They also landed a book deal. The deals were thanks to a friend, who happened to be a trainee at CAA, who spotted their viral ad on Craigslist.
And so we cordially invite all to the comedy event of the year. Adam Devine plays Mike and Zac Efron plays Dave in Mike and Dave Need Wedding Dates, coming to Blu-ray, DVD and 4K Ultra HD + Blu-ray + Digital HD on September 27 from Twentieth Century Fox Home Entertainment. A true life comedy: In order to avoid embarrassing their family, hard-partying brothers Mike and Dave place an online ad to find "respectable" dates for their sister's Hawaiian wedding. Instead, the boys find themselves out-hustled by an uncontrollable duo (played by Anna Kendrick and Aubrey Plaza). Based on hilarious true events, Mike and Dave Need Wedding Dates is the perfect marriage of over-the-top humor and outrageous fun. The home releases doesn't divorce themselves from extras . . .  there are more than 90 minutes of wildly inappropriate content, including never-before-seen extended and deleted scenes
No gifts needed.