War has always been big business. Especially when it translates to film. Marvel's Captain America: Civil War has conquered both audiences and critics, debuting to $179.1 million—the fifth-biggest domestic opening of all time—and earning a 90% critics rating on Rotten Tomatoes. The film is the highest-grossing film of 2016 domestically, internationally and globally, earning more than $1.14 billion at the worldwide box office. Oprah may have more of the green stuff in her deep pockets, but the news about Captain America: Civil War is marvelous . . . the flick also continues Marvel Studios' winning streak as the 13th consecutive film from the Marvel Cinematic Universe to debut at No. #1 at the domestic box office.
When Marvel's Captain America: Civil War arrives early on Digital HD, Digital 3D and Disney Movies Anywhere on September 2 and on Blu-ray 3D, Blu-ray, DVD and On-Demand on September 13, viewers can join the nonstop action and pick their side—Team Cap, commanded by Steve Rogers (Chris Evans), or Team Iron Man, led by Tony Stark (Robert Downey Jr.).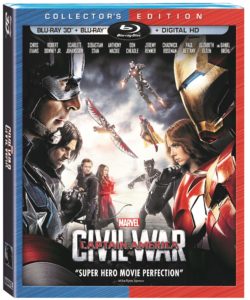 Rogers and Stark are joined by a star-studded lineup of beloved Marvel Super Heroes, including Natasha Romanoff aka Black Widow (Scarlett Johansson), Bucky Barnes aka Winter Soldier (Sebastian Stan), Sam Wilson aka Falcon (Anthony Mackie) Colonel James "Rhodey" Rhodes aka War Machine (Don Cheadle), Clint Barton aka Hawkeye (Jeremy Renner), Vision (Paul Bettany) and Wanda Maximoff aka Scarlet Witch (Elizabeth Olsen), along with new recruit Scott Lang aka Ant-Man (Paul Rudd) and joined by two new additions to the MCU: T'Challa aka Black Panther (Chadwick Boseman) and Peter Parker aka Spider-Man (Tom Holland).
More than 60-minutes of thrilling, exclusive bonus material includes: an inside look at the evolution of lead characters Steve Rogers and Tony Stark, a behind-the-scenes exclusive on the making of Marvel's "Captain America: Civil War," never-before-seen deleted scenes and hilarious outtakes. Plus, home audiences can learn more about the latest additions to the MCU and get an exclusive, first look at Marvel's "Doctor Strange," starring Benedict Cumberbatch, coming to theaters November 4, 2016.
Downey shares a bon mot, admitting his improvised some of his lines: "When you're standing around set for hours, you think of dumb stuff to say, and sometimes you say it when they're rolling."