We promise this won't be Greek to you. Indeed, the PBS Masterpiece drama The Durrells in Corfu is a terrific event. Keeley Hawes stars as an intrepid widow who decamps from dreary 1930s England to a sun-dappled Greek island with her four recalcitrant children, ages 11 to 21, in this adaptation of conservationist Gerald Durrell's My Family and Other Animals and its two sequels.
Missed it on the tube? The Durrells in Corfu is now on Blu-ray and DVD; the program will also be available for digital download.
Co-starring with Hawes, who plays Louisa Durrell, are Josh O'Connor as her eldest son, Larry, the instigator of the family's sudden move to Corfu and a budding writer on his way to becoming the famous novelist Lawrence Durrell; newcomer Callum Woodhouse as son number two, Leslie, an impulsive firearms enthusiast; Daisy Waterstone as daughter Margo, a man-crazy teen; and Milo Parker as 11-year-old Gerry, who only has eyes for wildlife and grew up to be a world-renowned naturalist.
Also appearing are Alexis Georgoulis as Spiros, a Greek taxi driver and all-around fixer for the disoriented Durrells; Yorgos Karamihos as Dr. Theo Stephanides, Gerry's zoological soulmate; and Ulric von der Esch as Sven, a handsome Swedish expat, living his own bucolic fantasy on Corfu, into which he entangles Louisa.
A tight budget and desperation—not holiday-making—originally drive the Durrells to sink their meager savings into boat fare to Corfu, where they hope to find a refuge more welcoming for their unconventional ways than the stuffy UK. They arrive on an island with no beach resorts, night clubs, tourist shops, or even electricity—for this is 1935. What Corfu does have is endless opportunity for living, loving, shooting and animal collecting—depending on your preferences.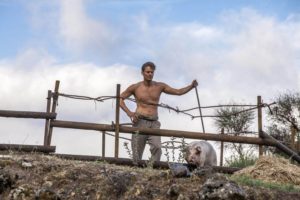 Gerald Durrell drew on (and embellished) the family's real-life adventures to create three bestsellers: My Family and Other Animals (published in 1956); Birds, Beasts, and Relatives (1969); and Fauna and Family (1978).  The PBS drama has come under pressure: Producers of the ITV drama are still under fire for changing the storyline to make a gay character straight. Handsome Sven, kisses Louisa Durrell in the show, but in the book by conservationist Gerald Durrell, Sven prefers men.  In 1971 novel Fillets of Plaice, Sven says of Louisa: "She's so beautiful, in fact, it almost makes me wish I weren't a homosexual."
ITV's response? "The series is loosely based on Gerald Durrell's books and is not intended to be true to life. Characters originally included have been adapted and new characters have been created."
Screenwriter Simon Nye created an adaptation that has a bit of the epic quality of Greek myth: There's Gerry's enchantment with the marvelous animals that populate the island; Margo and Leslie's quest to cast a spell on members of the opposite sex; Larry's titanic struggle to produce a novel that someone will publish; and Louisa's futile stratagems to force her children to get jobs.
But the central odyssey is the children's search for a suitable mate for their lovelorn mom. Of course, success hinges on whether mother and offspring can agree on what constitutes "suitable."