When Prince tragically passed away in April, he left behind a legacy as a singer, songwriter, multi-instrumentalist, record producer and actor.  To commemorate the wildly talented icon, musical innovator and seven-time Grammy-winner behind such chart-topping hits as "When Doves Cry," "Let's Go Crazy," "Raspberry Beret," "Purple Rain" and "Little Red Corvette," Time Life has released a special, limited-edition of the recently released vinyl album, Rock & Roll Hall of Fame Live – Volume 1.

The initial pressing of the album, released on
April 29
, immediately sold out and rose to #13 on
Billboard
's Vinyl Album chart.  The new pressing, which features Prince's blistering and unforgettable guitar solo on "While My Guitar Gently Weeps" from his 2004 Rock & Roll Hall of Fame induction, will be highlighted by purple vinyl in honor of the influential star.  It went on sale today at a suggested retail price of $25.98 wherever vinyl albums are sold.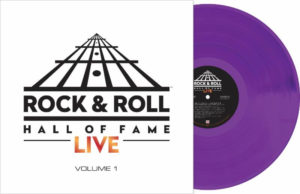 "Following Prince's passing, we recognized that we needed to do something truly special to   commemorate his incredible musical legacy," says Jeff Peisch, SVP of New Product Development & Marketing for Time Life. "When the first run of Rock & Roll Hall of Fame Live sold out immediately, the opportunity presented itself to do a purple vinyl pressing that perfectly captures the 'Purple One,' and is sure to resonate with those who loved his music and style."
Time Life and the Rock and Roll Hall of Fame have digitally released the filmed performance of "While My Guitar Gently Weeps," from an evening featuring Prince's own induction by a 23 year-old Alicia Keys. Prince's three-minute-long blistering solo went viral following his death, and has now entered into legend.  Prince fans and music lovers searching to own the filmed performance can now go to iTunes to download the music video for just $1.99.
Rock & Roll Hall of Fame Live – Volume 1 
is a selection of the most memorable moments from induction ceremony history, featuring the biggest names in rock performing in combinations not seen anywhere else.  This 180 gram vinyl "ticket" is a front-row seat to the very best the Rock & Roll Hall of Fame induction ceremonies have to offer.
Aside from "While My Guitar Gently Weeps," which also features Tom Petty, Jeff Lynne, Steve Winwood and Dhani Harrison, the release includes performances from legendary talents like Bruce Springsteen & the E Street Band, Cream, Steve Winwood, Metallica, Jeff Beck, Jimmy Page, Ron Wood, Joe Perry, Green Day, James Taylor, Al Green, Chuck Berry and more.
Jam-filled performances of chart-busters like "Johnny Be Goode," "Tenth Avenue Freeze Out," "A Change is Gonna Come," "Train Kept a Rollin,'" "Ironman," "Woodstock," "Blitzkrieg Bop" and "Can't Get No Satisfaction" make this volume a must-have for any LP library.