No one has more balls than Richard Linklater, who wrote and directed the the critically-acclaimed sports comedy Everybody Wants Some!!, unless you count  the film's star Tyler Hoechlin who recently played in the MLB All-Star Legends & Celebrity Softball Game at Petco Park in San Diego. His co-stars, Glen Powell, J. Quinton Johnson and Juston Street also have balls: They, were on hand to cheer him on in support of the Blu-ray/DVD release of the fratboy frenzy film.
The film, now available on Blu-ray, DVD and On Demand, follows freshman pitcher Jake as he arrives at college in the summer of 1980 and meets his new rowdy teammates. Together, they must navigate their way between girls, parties and baseball, all in the last weekend before school begins.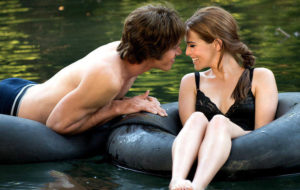 Maybe the film is so good because two cast members have balls in their blood: Tyler Hoechlin began playing baseball at the age of seven; Juston Street is a  former professional baseball pitcher.
Got the balls to watch a preview?