Whoever knew?
Hee Haw
was inspired by
Rowan & Martin's Laugh-In
, 
 the major difference being that the countrified series was far less political and topical, focusing on country music and rural culture. And it was just as funny . . . as well as also being  known for its voluptuous, scantily-clad women in stereotypical farmer's daughter outfits and revealing minidresses.
Pickin' and grinnin', singin' and spinnin' tall tales and corny jokes, the citizens of Kornfield Kounty landed on television in 1969 with the arrival of Hee Haw as a summer replacement series for The Smothers Brothers Comedy Hour.  With a cast of down-to-earth characters including Minnie Pearl, Grandpa Jones and Archie Campbell, knee-slapping comedic zingers and jaw-dropping musical performances, the comedy-variety show, co-hosted by Buck Owens and Roy Clark, captivated the country.  In 1971, after two successful years, CBS dropped the show in an effort to "de-countrify" the network's programming; however, it was quickly picked up and aired for the next 21 years, making Hee Haw the longest-running weekly syndicated original series in television history.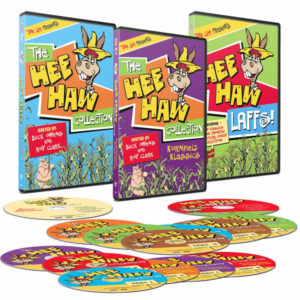 In a new-to-retail set, Time Life is releasing Hee Haw: The Collector's Edition offers 14 Hee-larious discs featuring some of the best sketches and brightest stars from the series' impressive 23-year history, rarely seen since their original broadcasts.  Across 21 vintage hours, viewers can sit back and be entertained by korny klassics such as "PFFT! You Were Gone," "Gordie's General Store," "Board Fence," "Cornfield" and "Moonshiners"–as well as the all-time favorites "Rindercella" and "Trigonometry."  And because Hee Haw was a favorite stop for country music's biggest stars and legends, this must-have box set also features hundreds of classic performances from Hall of Famers at the peaks of their careers including Tammy Wynette, George Jones, Dolly Parton, Merle Haggard, Waylon Jennings,  Johnny Cash, Jerry Lee Lewis, Tanya Tucker and Loretta Lynn and Conway Twitty and too many others to name.
Though the last "new" episode aired in 1992, this 14-disc collector's edition perfectly captures the reasons why Hee Haw was one of the longest-running and best loved television variety shows of all time!
BONUS FEATURES
New interviews with show regulars including Roy Clark, Lulu Roman, George Lindsey, Charlie McCoy and Jim and John Hager
Additional bonus programming includes all-time favorite comedy from the early years in "Hee Haw Laffs," featuring "Board Fence," "Doctor Spot," "Old Philosopher," "Haystack," "Schoolhouse" and other knee-slappers