It may be a little house on the prairie, but the love inside is bigger than what's found in those huge, cold mega-mansions. Lionsgate is celebrating the hit series that stole America's heart now that Little House on the Prairie: Legacy Movie Collection has arrived on DVD (plus Digital) and Digital HD.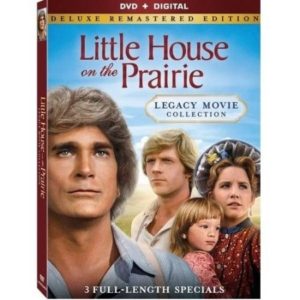 We offer you to say hello to the family fave as you prepare to say farewell to this legendary western drama with three movie adventures: Look Back to Yesterday, Bless All the Dear Children and The Last Farewell. These restored and remastered movies will be available individually on Digital HD.
The story of the Ingalls family concludes with this trio of heartwarming movies—newly restored and remastered for optimal sound and picture quality. Rediscover the timeless adventure of Little House on the Prairie as Albert displays courage in the face of a serious illness; Laura and Almanzo race to find their missing baby daughter; and the community of Walnut Grove unites to defend its town in these inspiring and exciting moments that fans will treasure.