Jeffrey Lionel Dahmer was known as the Milwaukee Cannibal—more precise, he was a serial killer and sex offender, who committed the rape, murder and dismemberment of 17 men and boys between 1978 and 1991. Many of his murders involved necrophilia, cannibalism and the preservation of body parts. Ugh.
My Friend Dahmer is the story before that story. It's based on the acclaimed graphic novel about him; its screenplay landed a spot on the coveted "Black List," ranking it as one of the best un-produced screenplays (at the time) before becoming a hit movie.
Jeff Dahmer (portrayed by Lynch) is an awkward teenager struggling to make it through high school with a family life in ruins. He collects roadkill, fixates on a neighborhood jogger (Kartheiser), and copes with his unstable mother (Heche) and well intentioned father (Roberts). He begins to act out at school, and his goofball antics win over a group of band-nerds who form The Dahmer Fan Club, headed by Derf Backderf (Wolff). But this camaraderie can't mask his growing depravity. Approaching graduation, Jeff spirals further out of control, inching ever closer to madness.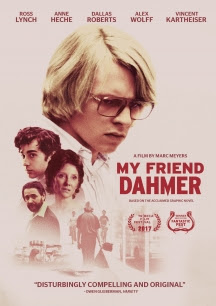 The flick played extensively on the festival circuit, premiering at the Tribeca Film Festival and going on to play at LA Film Festival, Deauville Film Festival and American Film Festival. The film features an all-star cast that includes Emmy Nominee Anne Heche, Vincent Kartheiser, Ross Lynch, Alex Wolff and Dallas Roberts.