It's been called "The Greatest Story Hitchcock Ever Told". In 1962, Alfred Hitchcock, then at the height of his fame, sat down with acclaimed director Francois Truffaut, the rising star of the French New Wave, to reveal in detail the making of the long string of hits that earned him the title "Master of Suspense."
The interviews became the basis for the book Hitchcock/Truffaut, one of the most acclaimed and widely read books about the cinematic process. Now, critic and filmmaker Kent Jones "brings the pages to life" (Robert Lloyd, Los Angeles Times) in a feature film that honors its source material while also serving as a moving and entertaining portrait of two great directors talking shop. Fresh off the heels of a successful theatrical release by Cohen Media Group, Hitchcock/Truffaut arrives on Blu-ray and DVD on December 20, 2016, from Universal Pictures Home Entertainment.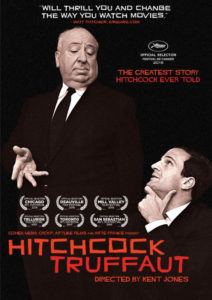 Hitchcock and Truffaut locked themselves away in Hollywood for a week to excavate the secrets and meaning behind Hitchcock's greatest achievements. Based on the original recordings of this meeting, Jones' film illustrates the greatest cinema lesson of all time and plunges us into the world of the creator of Psycho, The Birds, Vertigo and dozens of other thrilling masterpieces.
Jones has expanded on the original book by including insightful new interviews with many of today's most renowned directors and Hitchcock aficionados, including Martin Scorsese, David Fincher, Arnaud Desplechin, Kiyoshi Kurosawa, Wes Anderson, James Gray, Olivier Assayas, Richard Linklater, Peter Bogdanovich and Paul Schrader.
This is a fascinating journey between two geniuses.