We must have been spending too much time cat-walking through catacombs since we just learned that  Lionsgate is exhuming classic horror films for the limited-edition Vestron Video Collector's Series. Hours of materials have been assembled for the Vestron Video Collector's Series Blu-ray releases, starting with six horror cult classics. Lionsgate vows fan will "taste the fear and the flesh, in shocking high definition for the first time, as teenagers meet their untimely demise at the hands of cannibals, killer robots, horror icons, sewer-dwelling monsters and an army of the undead!" Just the way we like it.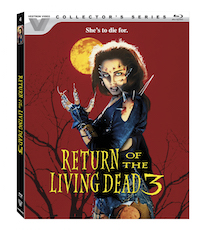 Starting with Chopping Mall and Blood Diner, and continuing with Waxwork and Waxwork II: Lost in Time Double Feature, Return of the Living Dead 3, and C.H.U.D. II: Bud the CHUD, these rereleases are for the collector and horror fan alike and will be available for a limited amount of time.
Other releases of grave matters . . .
Return of the Living Dead 3
Watch all of the terror in high definition when Curt transforms his girlfriend into a flesh-eating monster after her accidental death, in order to fulfill their pact to love each other forever. 
The Lair of the White Worm (available  on January 31). We can't wait to hear the audio commentary by director Ken Russell.
Parents (January 31)
In this black-comedy horror classic, a young boy in '50s suburbia suspects his parents are cannibalistic murderers.
The Gate (February 28)
When two suburban kids accidentally open a portal filled with pint-sized demons hell-bent on taking over the planet, it's up to them to seal the gateway and save mankind!