Olive Films continues its tradition of releasing lost, little-known films . . . even films that have had DVD life, but are resurrected through 4Ks scan of original camera negatives and crammed with essentials extras.
The next titles to be included in Olive Signature, a new series of DVD & Blu-ray releases offering deluxe editions of time-honored classics, fan favorites and under-appreciated gems from the Olive catalog. Olive Signature titles feature pristine audio and video presentation and an abundance of bonus material that will delight fans, collectors, and cinephiles. They continue the series with two distinct, but beloved classics. Save the release date: October 25.
The Quiet Man (1952)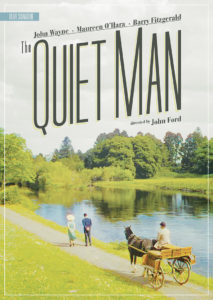 Sean Thornton (portrayed by John Wayne), an American boxer with a tragic past, returns to the Irish town of his youth. There, he purchases his childhood home and falls in love with the fiery local lass, Mary Kate Danaher (the lovely Maureen O'Hara). But Kate's insistence that Sean conduct his courtship in a proper Irish manner with matchmaker Michaleen Oge Flynn (Barry Fitzgerald) along for the ride as chaperone is but one obstacle to their future together; the other is her brother, "Red" Danaher (Victor McLaglen), who spitefully refuses to give his consent to their marriage, or to honor the tradition of paying a dowry to the husband. Sean couldn't care less about dowries or any other tradition that might stand in the way of his happiness. But when Mary Kate accuses him of being a coward, Sean is finally ready to take matters into his own hands. The Quiet Man would go on to win two Academy Awards in 1953, including Best Director (John Ford) and Best Cinematography and received five more nominations including Best Picture, Best Screenplay and Best Supporting Actor (McLaglen).
Bonus tracks abound!
Mastered from 4K scan of original camera negative
Audio commentary with John Ford biographer Joseph McBride
Tribute to Maureen O'Hara with Ally Sheedy, Hayley Mills and Juliet Mills
Don't You Remember It, Seánín?: John Ford's 'The Quiet Man' – A visual essay by historian and John Ford expert Tag Gallagher
Free Republic: The Story of Herbert J. Yates and Republic Pictures
The Old Man: Remembering John Ford – An appreciation of the director with Peter Bogdanovich
The Making of The Quiet Man – Written and hosted by Leonard Maltin
The Night of the Grizzly (1966)
Adventure is the name of the game in this action-packed, western-tinged adventure. Clint Walker stars as "Big Jim" Cole, a former lawman who trades his badge for rancher duds when he inherits land in Wyoming. But no sooner has the Cole family begun settling into their new life when nature—in the form of a blood-thirsty grizzly bearrears its ugly head. Adding to the terror and tension are a group of envious neighbors who want the Cole property for themselves, and the unwelcome return of an outlaw from Big Jim's past who's out for revenge.
Directed by Joseph Pevney, The Night of the Grizzly features a who's-who of great character actors including Keenan Wynn, Jack Elam, Leo Gordon and Ron Ely.
New High-Definition digital restoration
Audio Commentary by film historian Toby Roan
Blood on the Claw: How Cheyenne Bodie Became a Movie Star – An essay by C. Courtney Joyner
The Legend of Big Jim Cole – Interview with Clint Walker
The Night of the Grizzly World Premiere archival footage
At Home with Clint Walker and His Home Gymnasium – Archival interview