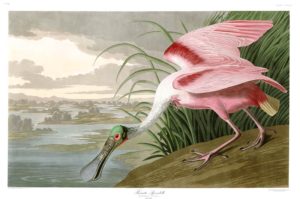 We turn the spotlight onto two must-have documentaries on DVD: Public Media Distribution's Audubon (available June 20) and PBS Distribution's American Masters: Alice Waters and Her Delicious Revolution (now available).
John James Audubon was one of the most remarkable men of early America. A contemporary of Lewis and Clark and Davy Crockett, he explored the American frontier in search of "the feathered tribes" he loved and studied. A self-taught artist and ornithologist, he left a legacy of art and science that made him famous in his lifetime and endures to this day. His portrait hangs in the White House, his statue stands over the entrance to the American Museum of Natural History, and his name was adopted by the nation's first conservation organization.
The program, filmed in locations where Audubon painted, brings to life his timeless paintings with dazzling footage of the living birds he immortalized—and celebrates visually the natural world he described in his writings. Interviews reveal the man, explore his art, and put his groundbreaking work in modern perspective.
Alice Waters and her now-famous restaurant Chez Panisse became a major force behind the way Americans eat and think about food, launching the explosion of local farmers' markets and redesigned supermarket produce departments.
Distressed by the food she saw in public schools, Waters started an organic garden with an integrated curriculum at the Martin Luther King Middle School near her house, an idea inspired by The Garden Project at the San Francisco county jail. The idea of an Edible Schoolyard has now spread across the U.S.–and inspired similar programs worldwide. She is an activist with a flawless palette who has taken her gift for food and turned it into consciousness about the environment and nutrition, and a device for social change.