Rock 'n roll! Pin-up girls! Hot rods and hotter fashion! Welcome to the documentary It's a Rockabilly World (Virgil Films). Directed by the award winning Brent Huff, the film focuses on the vibrant scene known as "rockabilly" and the people who follow this subculture religiously.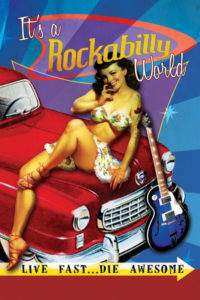 The term dates back the mid-'50s, where it was coined to describe the rock 'n roll played by hillbillies, by Elvis Presley, Carl Perkins and Jerry Lee Lewis. The flick details its humble beginnings to the global sensation it is today, not only in the United States but in Europe, South Africa and Japan. The colorful cast brings you right onto the rockabilly scene-describing how and why they fall in love with this cultural phenomenon.
The action of Lego Star Wars: The Freemaker Adventures: Complete Season One (Disney) begins after the events of The Empire Strikes Back and before Return of the Jedi and follows a family of scavengers who build and sell starships from battle debris strewn throughout the galaxy. Recycling runts!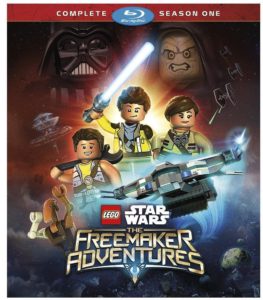 When their youngest discovers a natural connection with the Force through an ancient artifact—the Kyber Saber—his world is turned upside down, and he and his family are thrown into an epic struggle against the Empire to restore peace and freedom to the galaxy. The Freemakers explore new worlds, meet new and familiar characters and learn the meaning of family. Relive all 13 action-packed episodes in one nifty set. And no, you;re not hearing things: The voice of Lando Calrissian is that of Billy Dee Williams, reprising his role from the original film series.
RuPaul has his queens. And the Kingdom of Avalor has theirs. After saving her enchanted kingdom from an evil sorceress, Princess Elena must now reign as Crown Princess until she's old enough to become Queen.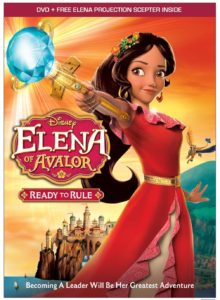 She has help: With her sister Isabel, magical flying jaquins, and her friends Naomi, Royal Wizard Mateo and Royal Guard Gabe by her side, this empowered Princess will do her best to rule Avalor with bravery and compassion. Disney's most inspiring new leader embarks on a heroic journey to restore her kingdom to greatness and prove she's ready to rule. Such is the wonder of Elena of Avalor (Disney).
We know the story well: Ben-Hur is the epic story of Judah Ben-Hur, a prince falsely accused of treason by his adopted brother Messala, an officer in the Roman army. The story's highlight still remains the chariot race: Both the 1925 silent film version, starring gay icon Ramon Navarro as Ben-Hur, and the 1959 blockbuster remain memorable with Biblical proportions. (Three were two other adaptations of the 1880 novel Ben-Hur: A Tale of the Christ by Lew Wallace: The 1907 silent film starring Herman Rottger and the 2003 animated film with Ben-Hur voiced by Heston.)
A new version hit theaters earlier this year, starring Jack Huston in the title role. The breathtaking action-adventure,from Paramount Home Media Distribution, is a great adventures, especially on Blu-ray!
If you missed the critical acclaim (think applause, then more applause) director Andrew Neel's gripping drama Goat received at its world premiere at the 2016 Sundance Film Festival, ask Santa for the Paramount Home Media Distribution DVD.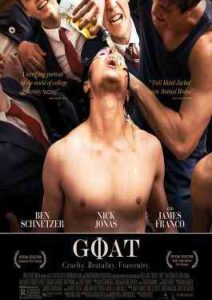 Based on Brad Land's memoir, the film follows a 19-year-old Brad (played by Ben Schnetzer), newly arrived to college and desperate to belong.  Taking a cue from his older brother Brett (Nick Jonas), Brad decides to pledge a fraternity.  At first, it's all parties and girls, but as Brad enters into the final stretch of the pledging ritual—known as "hell week"—things take a violent, humiliating turn.  What occurs in the name of 'brotherhood' tests both boys and their relationship in brutal ways.
True cinephiles crave everything Cohen Film Collection releases. Trust us and check out the wide array of flicks at 
cohenmedia.net
. Santa will get a long list. One must-have: Merchant Ivory's undisputed masterpieces
Howards End
, in a gorgeous new 4k restoration on Blu-ray and DVD. This adaptation of E.M. Forster's classic novel won multiple prizes including three Academy Awards, with Emma Thompson picking up Best Actress.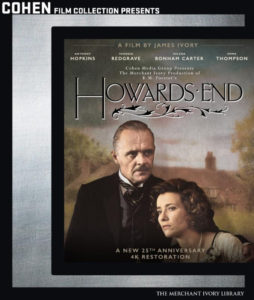 A saga of class relations and changing times in an Edwardian England on the brink of modernity, the film centers on the interwoven fates and misfortunes of these three families and the diverging trajectories of the two sisters' lives are connected to the ownership of Howards End, the beloved country home. A compelling, brilliantly acted study of one woman's struggle to maintain her ideals and integrity in the face of Edwardian society's moribund conformist values.
Only producer Lorne Michaels could make our Saturday nights live with laughter. Witness: Brother Nature (Paramount Home Media Distribution), the outrageous new comedy about family, friendship and fish.  Roger, a straight-laced politician, has big plans to propose to his dream girl at her family's lake house. But everything goes awry when he meets his potential brother-in-law Todd: A full-time camp counselor with a heart of gold and a wild sense of fun, pining to be Roger's best friend, and ultimately catapulting him into a series of unfortunate events.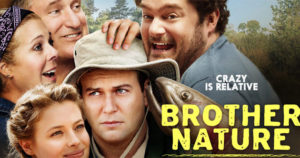 As Roger tries to take a stand amidst outrageous fishing excursions, propulsive water jetpacks and American history-themed musicals, he realizes that being a part of a new family may be more difficult than he'd thought.
Perhaps the most touching and important film of the year: When two pregnant cows were trapped in an over-turned rig on the 210 Freeway in March, the City of Los Angeles' SMART, a specialized mobile animal rescue team, was called in to save them. The team, the first of its kind in the United States, is a uniquely trained unit within the Animal Services division that risks life and limb to rescue domestic and wild animals in the most precarious situations. An award-winning documentary film, SMART: Specialized Mobile Animal Rescue Team (Cinema Libre Studio), captures the heart and soul of this team as they battle to save LA's animals.
Since SMART's formation in 2009, the self-trained team has saved nearly 1,000 animals . . . domestic, wild, and abused animals of all kinds. The team of 12 Animal Control Officers, represent the cultural melting pot that is this city, and has a 100% save rate. Due to SMART's distinctive training, it can respond to calls that other emergency responders and Animal Control Officers are not equipped to handle, as seen in the film when they are called in to help Pee-Wee Herman (Paul Reubens) after a buck gets trapped in his backyard.
In the last seven years, team members have spent almost $80,000 dollars of their own money to assist with expenses not covered by the department's budget. Says Animal Services General Manager Brenda Barnette, SMART's role is "to show people that the impossible is possible."
A truly remarkable team and their story.
Based on the phenomenal bestselling book series by acclaimed author James Patterson, Maximum Ride has landed on DVD
from Paramount Home Media Distribution.  Patterson's book series spent 144 weeks on The New York Times bestseller list, has sold more than 20 million books worldwide and has spawned 11 Manga comics.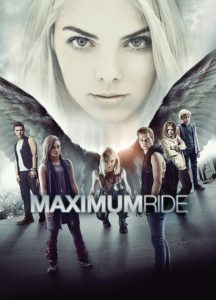 The film brings to life the extraordinary journey of six DNA-enhanced young orphans with the ability to fly who are on a mission to rescue the youngest of their flock while discovering the diabolical, scientific secrets of how they came to exist.  Their leader is Max, wise beyond her years, who must summon all her courage and acumen to outmaneuver the brutal half-human/half-wolf creations known as "Erasers", confront her own inner demons and ultimately face a stunning betrayal.
Time Life is releasing several new-to-retail collections of episodes from the first five years of her  show with The Carol Burnett Show: The Lost Episodes–Classic Carol. This must-have series, unveiled by Time Life in 2015, features original, uncut broadcast episodes from Seasons 1-5 (1967-1972), unseen by the public in more than 40 years–no reruns, streaming video, DVDs or any other format. Until now.   Fans  will have the opportunity to restore their CB connections and tune in to rediscover what made the program tick and stick around as one of the best hours on TV.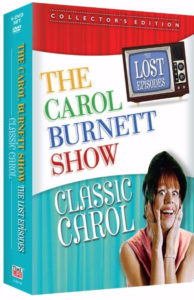 The 6-disc set  features 14 episodes, as they originally aired on television, and showcases some of the most acclaimed and beloved moments from "The Carol Burnett Show" including classic sketches "The Old Folks," "Carol and Sis," "The Ham Actors," and "As the Stomach Turns;" TV spoofs including the ever-popular commercials; movie parody presentations from Tearjerker Theatre, Insomnia Theatre, and The Early Early Show; and guest stars including Lucille Ball, Ken Berry, George Carlin, Ray Charles, Cass Elliot, Robert Goulet, Bernadette Peters, Debbie Reynolds and Lana Turner. There's also a 3-disc set (features seven episodes) and the single disc  that includes three episodes.
Specially-created bonus features are also available on both the 6-disc and 3-disc sets and include "A Writers' Roundtable: A Conversation with The Carol Burnett Show's Writers" and interviews with show dancer and choreographer Randy Doney and ballet dancer Edward Villella.  The 6-disc collection also features several bonus shows, including "The Garry Moore Show" episodes featuring the original "Accidents" and "Princess of Morovia" sketches.
Your favorite pizza-loving heroes return in an epic new adventure loaded with wall-to-wall laughs. In Teenage Mutant Ninja Turtles: Out of the Shadows (Paramount Home Media Distribution), the Heroes in a Half-Shell also will be available in a limited edition two-movie Blu-ray giftset with collectible metal lunchbox. Raphael, Leonardo, Donatello, and Michelangelo are back to battle bigger, badder villains, alongside April O'Neil and a newcomer: the hockey-masked vigilante Casey Jones.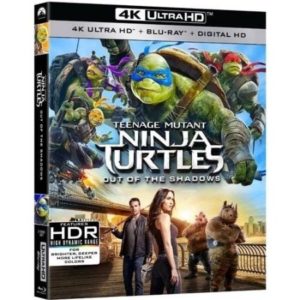 After supervillain Shredder escapes custody, he joins forces with two dimwitted henchmen, Bebop and Rocksteady, to unleash a diabolical plan to take over the world. As the Turtles prepare to take on Shredder and his new crew, they find themselves facing an even greater threat with similar intentions: the notorious Krang.
We cannot stand hip-hop or rap or any other such noise. But we did find the miniseries Streets of Compton (Lionsgate) fascinating as we witnessed the rise of West Coast hip-hop. Produced and narrated by rapper The Game, this miniseries brings unprecedented behind-the-scenes access to hip-hop's origins, exploring the rise of music legends like NWA and Dr. Dre told through the eyes of its current and former residents.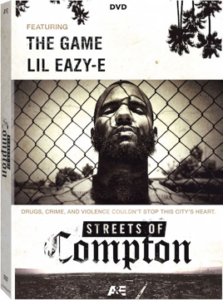 Compton is a place most people have never seen and the truth isn't always pretty. Streets of Compton tells the story of how a city overrun by gangs and violence became a cultural powerhouse. Hip-hop superstar The Game takes us on a dark yet redemptive journey into the heart of his city.
We got out kicks from Kicks (Universal Studios Home Entertainment). In Justin Tipping's feature debut, nothing is as simple as it seems. Fifteen-year-old Brandon longs for a pair of the freshest sneakers that money can buy; assuming that merely having them on his feet will help him escape the reality of being poor, neglected by the opposite sex and picked on by everyone — even his best friends.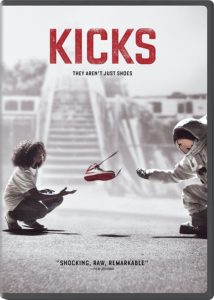 Working hard to get them, he soon finds that the titular shoes have instead made him a target after they are promptly snatched by local hood, Flaco. Seemingly the embodiment of menace, Flaco harbors complexities of his own that will be revealed when Brandon goes on a mission to retrieve his stolen sneakers with his two best friends in tow.