In a jam because you are too embarrassed to admit you;ve never heard of Wilko Johnson? Don't feel good?
Here's what Peter Weller has said of Johnson: "Wilko may not be as famous as some other guitarists, but he's right up there. And there are a lot of people who'll say the same. I can hear Wilko in lots of places. It's some legacy."
Never heard of Weller? Get the hell out of here.
Continuing his association with the reactivated Chess imprint, the label that issued so many of the tunes that inspired him in his youth, I Keep It To Myself-The Best of Wilko Johnson draws together 25 tracks recorded between 2008 and 2012 by the legendary guitarist and songwriter. The tracks are backed mostly by Blockheads Norman Watt-Roy (bass) and Dylan Howe (drums), the same rhythm section that performed on Wilko's enormously successful Going Back Home album with Roger Daltrey. The two-disc CD releases on February 24.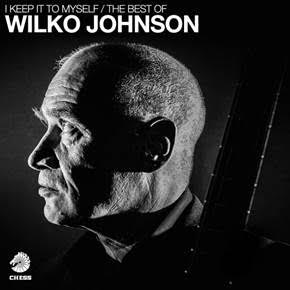 Including re-workings of Wilko penned Dr Feelgood favorites "She Does It Right"; "Twenty Yards Behind'"; "Sneaking Suspicion" and "Roxette'" alongside further dynamic numbers such as "Turned 21"; "Some Kind Of Hero"; "Out in the Traffic"; "I Really Love Your Rock 'n Roll"– I Keep It To Myself-The Best of Wilko Johnson is a splendid collection of high octane rhythm and blues with that unmistakable Johnson Fender greatness stamped all over it. Songs that are sung from the heart and played from the soul.
The video is a bit shaky . . . perhaps the person filming it was simply too excited.
He sings of many things; of water, of lust, of despair. He sings about fortune tellers and drug dealers. He sings of lovers, crazy lovers, wonderful lovers, and love gone bad.
And then he writes a song such as "Turned 21", which has little to do with the blues or this genre or that genre, but is just a great song, raw, rough and affecting.
And you think to yourself: So that's Wilko Johnson!