Too many TV stations air too many turkeys on Thanksgiving. Never PBS. After your day of thanks, give your local public television thanks for airing L.M. Montgomery's Anne of Green Gables.
This is the classic Lucy Maud Montgomery story that tells the tale of Anne Shirley, a precocious young girl taken from an orphanage and placed in the care of the uptight Marilla Cuthbert and her brother, Matthew. The conservative Marilla has a profound effect on the adventurous Anne and creates a journey of learning and personal engagement that has resonated with generations since L.M. Montgomery's Anne of Green Gables was first published in 1908. The book remains an iconic work of Canadian literature and has sold more than 50 million copies worldwide and been translated into 20 languages.
Directed by John Kent Harrison and based on the original script by Susan Coyne, this adaptation, filmed in Canada, stars critically acclaimed Martin Sheen, who portrays Matthew Cuthbert, one half of the brother-sister couple who care for Anne Shirley.
Some people Anne, and not Annie, is the most famous in the world. Whatever. Ella Ballentine stars as Anne in the two-hour, made-for-TV movie. "My mom read Anne of Green Gables to me when I was younger," Ella recalls. "And every now and then the cartoon came on TV, so I saw little bits of that. Then I did an episode of Reign on the CW, and Megan Follows is on that. I didn't have a scene with her, but my mom was telling me, 'Oh, you know, she played Anne of Green Gables before.' And I thought, 'How cool is it to be Anne of Green Gables?' So then when there was the audition for this, I got really excited.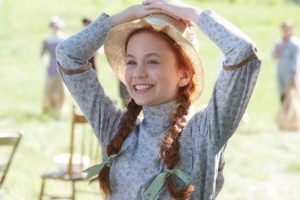 Is there anything specific in today's world that she would miss if she could go back in time to the late 1800s, when Anne of Green Gables is set?
Without an eye on an iPhone: "Modern hospitals," she says.
Maybe she knows that we will remind you the PBS film is just that the doctor ordered? Can't wait? PBS Distribution offers it on DVD on November 8.