There's an increasingly common conversation taking place in homes and communities across the country between parents of color and their children, especially sons, about how to behave if they are ever stopped by the police. In many homes, "the talk," as it is called, usually contains phrases like this:
If you are stopped by the police: Always answer "yes sir, no sir"; never talk back; don't make any sudden movements; don't put your hands in your pockets; obey all commands; if you think you are falsely accused, save it for the police station. I would rather pick you up at the station than the morgue . . .
This important and essential (and shamefully needed) conversation is highlighted in PBS Distribution's The Talk: Race in America.  The two-hour documentary will be available on DVD April 4; the program will also be available for digital download.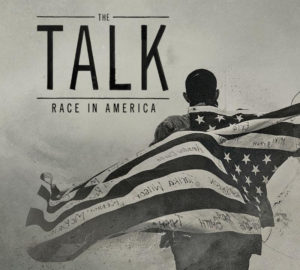 The film will present six personal stories to illustrate the issue from multiple points of view: Parent, child, the police and the community. Filmed across the country, in communities including Long Beach, California; Oakland, California; St. Louis, Missouri; Richland County, South Carolina; Memphis, Tennessee; and Cleveland, Ohio, the stories will include interviews with academics, police force members, community activists and family members.
Among those profiled are activist and founder of The Ethics Project, Dr. Christi Griffin, who, after living through the traumatic events of Ferguson, created "Parent 2 Parent," a series of conversations with black parents talking with white parents about "the talk" with their black sons; Samaria Rice, mother of Tamir Rice, who was a 12-year-old boy killed by the Cleveland police while playing with a toy gun in a local park; Reverend Catherine Brown, who was assaulted by Chicago Police in front of her children in her own car; Trevena Garel, retired sergeant, New York City Police Department (NYPD), who has investigated allegations of misconduct involving both uniformed and/or civilian members of the NYPD; Eric Adams, Brooklyn Borough President and retired officer, New York City Police Department (NYPD); the Ramirez family, whose 28-year-old son, Oscar, was shot and killed by a Los Angeles County sheriff in Paramount, California, a community southeast of Los Angeles; and members of the South Carolina Criminal Justice Academy, who share the protocols for using lethal force and describe the danger from a police officer's point of view.
In addition, sharing their own stories are Kenya Barris, creator/executive producer of Peabody Award-winning ABC series black-ish; Nas, musician/activist; Rosie Perez, actor/director, activist; John Singleton, director/screenwriter/producer; and New York Times columnist Charles Blow.
Each story is produced by a different filmmaker to ensure that diverse perspectives are presented. The project's director and supervising producer, filmmaker Sam Pollard, an Academy Award nominee and multiple Emmy winner; and Oscar nominee Julie Anderson, closely oversaw the producers and managed the overall creative look, storytelling and structure.
 The Talk: Race in America will also be accompanied by an engagement campaign. Social media conversations will explore the topics of community policing, the power of representation in media and how to talk to children about race. Online audience members will also be invited to share their experiences of having or giving "the talk." Visit PBS.org/thetalk for exclusive video content, special features and more.