There isn't anything worse than being in the doghouse. I didn't have the catch to catch up with Dave Barry's delightfully witty and warm and damn funny Lessons From Lucy: The Simple Joys of an Old, Happy Dog, his latest gem from Simon & Schuster ($26).
The book was all set and ready to be published October 2018, but when a medical crisis upended the Barry family, the book was postponed so they could deal with this unforeseen challenge. In the final version—the one you must pick up now—Dave has included an additional chapter about that crisis.
I won't blame you if you jump ahead to that final, profoundly moving chapter. But, please, not at the expense of the preceding chapters. In the book, Dave has just turned 70—the same age his beloved rescue dog Lucy is in dog years. Dave can't help but notice that Lucy seems to be handling the aging process more gracefully than he is. "She's way better at this than I am," he writes. "I know much more than she does, but she knows something I don't: how to be happy."
That's the idea behind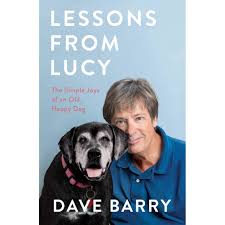 .
"This book represents my attempt to understand how Lucy manages to be so happy, and to figure out whether I can use any of her methods to make my own life happier," Dave writes. "Because—not to get too dramatic—I don't have that much time left."
Lucy imparts seven crucial life lessons to Dave—lessons of value to anyone, at any age:
Dave shows how to age gracefully, taking cues from his beloved and highly intelligent canine. Faced with the obstacles and challenges of life after middle age, Barry turns to Lucy to learn how to live his best life. Lucy, it seems, is dealing with old age far better than he is. She has more friends, fewer worries, and way more fun. So Dave decides to figure out how Lucy manages to stay so  happy, to see if he can make his own life happier by doing the things she does (except for drinking from the toilet).
Lucy teaches Dave such lessons as "Make New Friends" (an unfortunate fail when he can't overcome his dislike for mankind) and "Don't Stop Having Fun" (validating his longtime membership in two ridiculous but fun groups: The Lawn Rangers, a marching unit that performs in parades—and even Obama's inauguration—pushing lawnmowers and twirling brooms; and the Rock Bottom Remainders, the world's oldest and least talented all-author band).
She shows Dave how to live in the present, how to let go of daily grievances, and how to feel good in his own skin. The lessons are drawn from Dave's routine humiliations and stream-of-consciousness accounts of the absurdities of daily existence, as he riffs hilariously on dogs, people, and life in general.