A group of college students venture into the Black Hills Forest in Maryland to uncover the mysteries surrounding the disappearance of their friend's sister, who many believe is connected to the legend of the Blair Witch.
At first the group is hopeful, especially when a pair of locals offer to act as guides through the dark and winding woods, but as the endless night wears on, the group is visited by a menacing presence. Slowly, they begin to realize the legend is all too real and more sinister than they could have imagined.
Nearly two decades after documentary filmmakers vanished in the groundbreaking film The Blair Witch Project, an investigative team searches for them and the truth behind their disappearance in Blair Witch. The flick has landed on Blu-ray Combo Pack (plus DVD and Digital HD), DVD, Digital HD and On Demand from Lionsgate. From acclaimed filmmakers Adam Wingard and Simon Barrett, Blair Witch stars James Allen McCune, Callie Hernandez, Brandon Scott, Valorie Curry, Corbin Reid and Wes Robinson. An official selection of the 2016 Toronto International Film Festival, this much-buzzed-about film will haunt viewers far beyond the closing credits.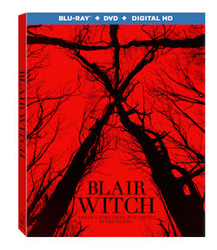 Also get buzzed with more than three hours of bonus features on the Blair Witch Blu-ray and Digital HD, including an audio commentary with director Adam Wingard and writer Simon Barrett; the House of Horrors: Exploring the Set featurette; and a six-part making-of documentary, "Never Ending Night: The Making of Blair Witch". The DVD release includes the audio commentary and the "House of Horrors: Exploring the Set" featurette. The Blu-ray Disc of Blair Witch will feature a Dolby Atmos soundtrack remixed specifically for the home theater environment to place and move audio anywhere in the room.
Quite bewitching, eh?