There's something to be said about Arrow Video, who take aim at horror fans hearts and deliver the soul of some spooky stuff. New flicks that are must-see, must-own:
Death Smiles on a Murderer
A haunting and dreamlike gothic horror/giallo hybrid, Death Smiles on a Murderer is a compelling early work from the legendary sleaze and horror film director Joe D'Amato , here billed under his real name Aristide Massaccesi. Set in Austria in the early 1900s, the film stars Ewa Aulin as Greta, a beautiful young woman abused by her brother Franz (played by Luciano Rossi) and left to die in childbirth by her illicit lover, the aristocrat Dr. von Ravensbrück (Giacomo Rossi Stuart).

Bereft with grief, Franz reanimates his dead sister using a formula engraved on an ancient Incan medallion. Greta then returns as an undead avenging angel, reaping revenge on the Ravensbrück family and her manically possessive brother. Presented here in a stunning 2K restoration, D'Amato's film is a stately and surreal supernatural mystery which benefits from an achingly mournful score by Berto Pisano, several shocking scenes of gore, and a typically sinister performance from Klaus Kinski as a morbid doctor. Bonuses include D'Amato Smiles on Death, an archival interview in which the director discusses the film; All About Ewa, a newly-filmed, career-spanning interview with the Swedish star; Smiling on the Taboo: Sex, Death and Transgression in the horror films of Joe D'Amato, a new video essay by critic Kat Ellinger and original trailers.
Two Thousand Maniacs
After shocking and outraging the world with his genre-defining 1963 gore-fest Blood Feast, exploitation pioneer H.G. Lewis would seek (and positively succeed) to outdo himself with the deliciously depraved Two Thousand Maniacs.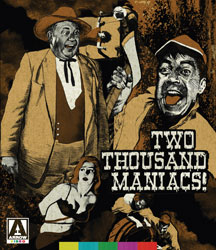 When a group of Yankee tourists take a detour and wind up in the small Southern town of Pleasant Valley—which has magically rematerialized 100 years after its destruction during the Civil War—they find themselves welcomed by the eager townsfolk as guests of honor at their centennial celebrations. Little do the Northerners know that the festivities are set to include torture, death and dismemberment. Also including H.G. Lewis' fist fightin', hooch-swillin' epic Moonshine Mountain as a bonus feature, this is one double-dose of hicksploitation truly worthy of an almighty "Yeehah!" Bonuses include Herschell's Art of Advertising in which H.G. Lewis shares his expert opinion on the art of selling movies; Two Thousand Maniacs Can't be Wrong, in which filmmaker Tim Sullivan on H.G. Lewis' gore classic and Hickspoitation: Confidential, a visual essay on the depiction of the American South in exploitation cinema.
The Bloodthirsty Trilogy
Inspired by the runaway success of the British and American gothic horror films of the '60s, Toho Studios brought the vampiric tropes of the Dracula legend to Japanese screens with The Vampire Doll, Lake of Dracula and Evil of Dracula, a trio of spookily effective cult classics collectively known as The Bloodthirsty Trilogy. In The Vampire Doll, a young man goes missing after visiting his girlfriend's isolated country home. His sister and her boyfriend trace him to the creepy mansion, but their search becomes perilous when they uncover a gruesome family history.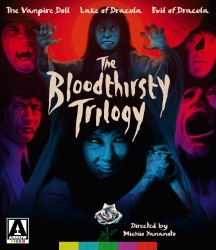 Lake of Dracula begins with a young girl suffering a terrifying nightmare of a vampire with blazing golden eyes. Eighteen years later, the dream is revealed to be a hellish prophecy when a strange package containing an empty coffin mysteriously turns up at a nearby lake. In Evil of Dracula, a professor takes up a new post at an all-girls school only to discover the school's principle conceals a dark secret and the pupils are in grave danger. Abounding with images of dark thunderous nights, ghostly mansions and bloody fangs, Michio Yamamoto's trilogy emphasizes atmosphere and style and is sure to please both fans of classic gothic horror and Japanese genre cinema. Bonuses include newly translated English subtitles; Kim Newman on The Bloodthirsty Trilogy, a new video appraisal by the critic and writer; and reversible sleeve featuring original and newly commissioned artwork by Matt Griffin.