And we thought we knew all the publishing companies.
A random house that offers "the most authentic, detailed and sought-after books about Nirvana, Metallica, AC/DC, Black Flag, NYHC, California punk, Norwegian black metal, Swedish death metal, and much, much more": Bazillion Points Books. The company, that calls itself "America's smallest but heaviest book publisher",  has expanded its comprehensive library with two essential new offerings from the world of horror punk/hardcore and death metal/grindcore.
No, George Michael and Madonna won't be here. The books are no minor threats, simply improved editions of two cult books that deal authoritatively with matters near and dear to all dark hearts.
Misery Obscura: The Photography of Eerie Von ($29.95)
Beginning as the unofficial photographer for punk legends the Misfits and later taking charge of the bass guitar as a founding member of underground pioneers Samhain and metal gods Danzig, Eerie Von captured the dark heart of rock's most vital bleeding edge during a time when rock and roll was not only dangerous, but downright menacing.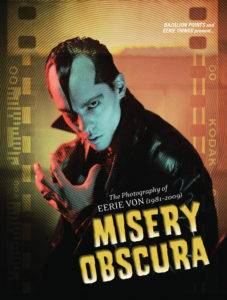 Hundreds of "fly-on-the-wall" photos from the best seats in the house document everything from the Misfits' humble beginnings in Lodi, New Jersey, to the heights of Danzig's stadium-rock glory.  There are forewords by Lyle Preslar aned Mike D'Antonio; the book ships with a signed 8×10 full-cover lobby card.
Metallica's lead guitarist coos: "Misery Obscura has an amazing fly-on-the-wall feel that is mesmerizing but unequivocal. He puts me right back in the 1980s, in the same space where the Misfits and Samhain were."
Choosing Death: The Improbable History of Death Metal & Grindcore ($29.95)
Albert Mudrian's widely praised blow-by-blow history of metal's most relentless strains was first published in 2004. Picking up the gruesome path over a decade later, Mudrian leaves no tombstone unturned, delivers three new chapters, and expands existing material with the results of 50 new interviews. Brutal new 16-page color section features raw, bloody early photos of Death, Repulsion, Obituary, Deicide, Morbid Angel, Thanatos, At the Gates, Napalm Death, Carcass, Dismember, Nihilist, and many others.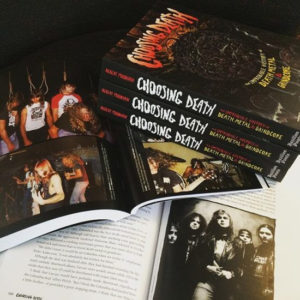 There are forewords by Scott Carlson of Repulsion and BBC DJ John Peel; the book ships with free limited color woven patch. Coos  Napalm Death (dis)member Shame Embury: "Albert Mudrian, our disciple of all that is heavy and extreme, definitively documents this period of blissful cacophony for all to behold. Play fast or die!"
Visit bazillionpoints.com . . . if you dare.