Sid Haig! Pam Grier! Christopher Lee! Bruce Lee! Greats from my childhood . . . in a slew of great flicks from VCI/MVD Entertainment.
What comes after World War III? A spaceship returns from deep space to find the Earth in The Aftermath of a nuclear and biological war. The streets are filled with mutated survivors feeding off the weak and a Manson-like figure called Cutter (Sid Haig) is reigning terror down on all others.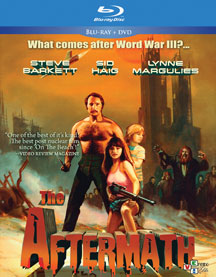 Cutter and his gang of mercenary thugs are systematically murdering all the male survivors and enslaving women and children. This cult classic 1982 post apocalyptic sci-fi movie makes its Blu-ray debut. The Aftermath was originally banned in the UK and labeled a "Video Nasty" and contributed to its cult status!
Animal desires . . . human lust! Such is the glory and gore of Twilight People. Matt Farrell (John Ashley) is plucked from the sea while skin-diving and taken to the foreboding fortress of Dr. Gordon. He is to become part of the doctor's diabolical experiment to create a race of super people. This twisted and maniacal doctor's experiments have so far only created terrifying and hideous creatures.
His human guinea pigs, freed by the doctor's own daughter, turn the island hideaway into a bloodbath of revenge and terror! Cult Film Queen Pam Grier is featured as "Panther Woman".
A college student Nan is researching the history of witchcraft in City of the Dead. Taunted by her brother and fiance, who have voiced their concerns, Nan arms herself with resolve and drives to the small New England village of Whitewood. She is glad she was able to count on the support of her professor. A bit anxious but consumed with curiosity, she will soon embark herself on the journey of her life! Legendary Christoper Lee stars; this remastered edition includes a 45-minute interview with him, as well as a feature length commentary by Lee.
Bruce's Deadly Fingers, finally released  for the first time ever in widescreen high definition and produced from a new 2K scan from the 35mm original negative. If you are a fan of the master, Bruce Lee, and other "Bruceploitation films," then this deluxe Blu-ray + DVD combo is a must for your film collection! After malicious gangsters capture Bruce Lee's ex-girlfriend, a young martial artist attempts to rescue her and the late master's book containing lethal techniques for killing with one's fingers. Plenty of Kung-fu action and mayhem including a particularly gruesome scene involving the torture of a girl with a deadly snake!