I had forgotten that I saw this flick way back when, back when there was a bunch of films about women using s-e-x to kill men who violate them, in more ways than one. Except lots of oodles of gratuitous nudity, tits everywhere, and blood spurting by the gallons. The film made have been made in 1996, but it's prime, lurid '80s expliotation . . .  which means it's great!
Actress Delawna McKinney stars as Mila, a porno star who decides to leave all that X-rated stuff behind. (No pun intented
. . . or is there?) Mila wants to leave the porn industry but gets kidnapped by a militant misogynist sect known as The Sword. These are dudes who believe are using their sexual powers to destroy men. The Sword's plans are thwarted when Mila kills her captor, and with the help of Brian (the swell Anthony To'omata), a local journalist, escapes.
The cast is riddled with titillating real-life porn stars, a busty bevy including Ginger Lynn Allen, Joanna Angel, Sophie Dee and Alexis Amore.  Now really, do you think, even for a second, that The Sword will win? Not until we see more tits. And more blood. Thank God for directors as sharp and intuitive as Paul Ragsdale. Listen to the dialogue; there are even sexual assault stats  tossed in.
This flick comes from the wonderful Olive Films.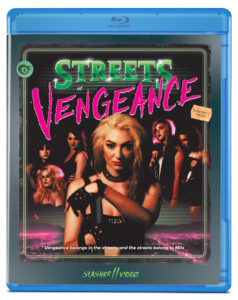 Don't skip the Blu-ray special tracks:
♥ Audio commentary with writer/director Paul Ragsdale, producer Angelica De Alba and cinematographer Dan Zampa
♥ Making of Streets of Vengeance featurette
♥ Cast & crew interviews
♥ Outtakes
♥ Bloopers
♥ Photo galleries
♥ Music videos
♥ Trailers
♥ Slashlorette Party trailer
♥ Tough Guys trailer