Summer may be winding down, but nothing still sizzling is the delicious and sexy Hollywood Beach Beauties: Sea Sirens, Sun Goddesses, and Summer Style 1930-1970 (Dey Street Books, $30).
Renowned independent curator and photographic preservationist David Wills commemorates the golden age of Hollywood and beloved starlets of the past with a book that must be in every film fan's library.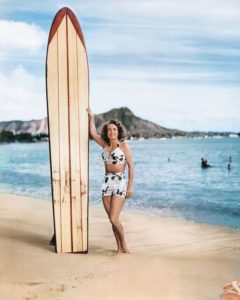 With more than 100 vibrant color photographs this book commemorates both the allure and joy of the coastline as well as the women of the stage and silver screen who spent time there. Inside the book, you will find candid and stylish photographs of movie star greats such as Elizabeth Taylor, Rita Hayworth, Audrey Hepburn, Marilyn Monroe, Brigitte Bardot, Sharon Tate, Edy Williams, Linda Christian, Norma Shearer, Joan Crawford and Nancy Sinatra.
We don't always remember these icons from this carefree and sun-soaked perspective, and this book is the perfect keepsake for those who love the beach, old Hollywood, summer fashion, and glamour.