For the record, whenever Van Dean, President of Broadway Records, speaks, we listen.
"I first heard Tyce sing Steinman in a concert in New York and knew immediately that he was a rare talent who could pull off these extraordinarily difficult to sing songs and make them his own," Dean says. "It's no surprise that Steinman trusted Tyce with his material and we are excited to unveil Tyce's debut album to the world."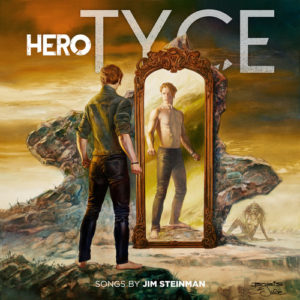 Indeed. Every so often a new artist comes along with a debut album that not only raises eyebrows, but curiosity in that the songs are so perfectly matched with the talent. In Tyce's case, with today's release of his debut Broadway Records album, Hero, his voice is perfectly in sync with the celebratory music and lyrics of noted Meatloaf collaborator Jim Steinman.
No ordinary talent would ever dare to record such treasured songs as "Holding Out For A Hero," "Total Eclipse Of The Heart," "I'm Gonna' Love Her For Both Of Us" and "Braver Than We Are," without the imprimatur of wordsmith Steinman, who was catapulted to international fame and renown with the debut album from Meatloaf, Bat Out of Hell.
Tyce is the first male vocalist to have recorded with Steinman since Meatloaf. Says Tyce: "I also fit Jim's original vision of a young blond, honorable, noble-boy, that he first had in mind when he wrote Bat Out Of Hell."  (Steinman is currently prepping the musical Bat Out Of Hell which opens June 5 in the U. K.)
Bravely produced and boldly re-imagined by Zak Lloyd (with Tony Heyes as executive producer and Nicky James as producer), with Steinman's blessing, the album features nine Steinman-tracks; plus seven bonus tracks. Don't be fooled, these tunes perfectly balance Steinman's original vigor with a twist of modern.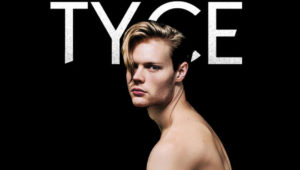 Tyce, who has long been key player in the Broadway community and recently appeared at last year's Rockers On Broadway event (performing Boston's "More Than a Feeling" to a rapturous reception) services Steinman's work with a bold, fresh take and a passion that immediately demands an audience.
Tyce first met Steinman after honoring him at a special concert in New York City. A surprise performance followed, with Tyce receiving a standing ovation after singing "Bat Out of Hell" in its 9-minute 51-second entirety in the original key. This was the first time the song was ever officially performed live since the Meat Loaf rendition. From there, it was kismet and a new interpreter of Steinman was born and reborn, for Jim.
We give Jim the last words. He calls Tyce "brilliant! virtuosic!" and gushes again over Hero: "It was like you wrestled with a fire-breathing dragon and came out on top!"