Lionsgate is celebrating the New Year with a most unusual treat . . . some 10 months in advance. Of sorts.
On January 31, Tyler Perry's Boo! A Madea Halloween–the outrageous return of Madea after a three-year theatrical hiatus–lands on on Blu-ray (plus Digital HD), DVD, Digital HD and On Demand. Perry returns as Madea along with fan favorites Aunt Bam and Hattie to prevent her teenage niece from attending the crazy frat party next door.
The film tells the story of Madea being summoned to keep a watchful eye on Brian's teenage daughter and keep her out of trouble. Little does Madea know, the trouble is coming for her. Fortunately, or not, she has her posse of Bam, Hattie and Joe to shield off ghosts and killer clowns.
More Madea? Also on January 31, following a nine-month nationwide tour, Tyler Perry's Madea on the Run (The Play) will be available on Blu-ray (plus Digital HD), DVD, Digital HD and On Demand.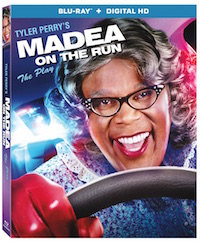 On the run from the law, Madea hides out at Bam's house, thinking she will lie low. Unfortunately, Bam's house is packed with rambunctious family and friends, and Madea finds herself needing to lay down her own law and drop the hammer.