Olive Films' history of releasing forgotten and controversial films continues with The Outsider, a film about the Irish Troubles. The story of a disillusioned American Vietnam veteran who goes to fight for the I.R.A. only to discover he's their pawn, the film received praise for its depiction of the moral murkiness of the Troubles. By all accounts, it is a war film with no heroism, glory, or ideals. Moreover, residents of Belfast frequently identify the movie's portrayal of 1973 working class Belfast as one of cinema's most realistic.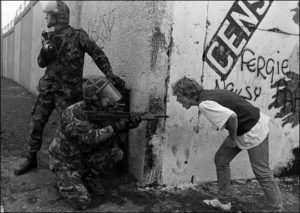 The Outsider became the subject of controversy at its release due to its depiction of a British officer torturing an Irish prisoner. The film proved so controversial, in fact, that it was actually dropped from the 1979 London Film Festival.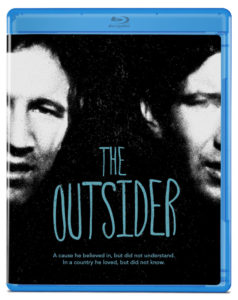 Having never been on disc before in the United States, Olive Films has given it a much-anticipated Blu-ray and DVD debut.
Gun the Man Down is a relatively obscure but entertaining Western. It is also a film of firsts. It was Angie Dickinson's first starring role and the first Western directed by Andrew V. McLaglen, who went on to direct McLintock!, 116 episodes of Have Gun–Will Travel and 96 episodes of Gunsmoke. McLaglen's direction isn't the only thing Gunsmoke fans will recognize, because James Arness, known for playing Marshal Matt Dillon on the show for 20 years, stars in the film.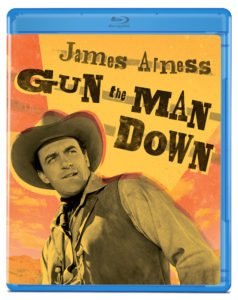 The script was by Burt Kennedy, who would become a director himself after a series of classic westerns working with Randolph Scott and Budd Boetticher. A Hollywood veteran, William Clothier, also deserves kudos for the film's handsome black and white cinematography.
It was John Wayne (producer of Gun the Man Down through his Batjac Productions), who recommended Arness for the Gunsmoke part. Besides being an intriguing installment in the Western genre, it should also be of interest to fans because of how many future icons contributed to it.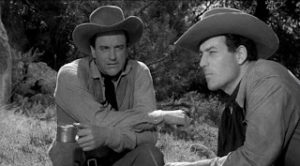 More important elements of the film: Reportedly shot in just nine days, parts of the movie is told without dialogue. At one point, seven minutes pass without a word as the camera follows and crosscuts among several of the characters at the center of the story. Emmet is stalking Arness, searching the streets and buildings for him, while Dickinson and the two other members of the gang wait in the saloon for the sound of gunshots.